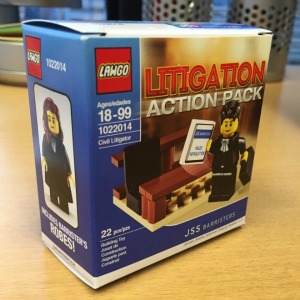 As if lawyers don't live and breathe the law enough already, they can now play with a lawyer-themed, adult version of Lego.
The aptly named 'Lawgo' game has been designed by a boutique civil litigation law firm in Canada, according to Legal Cheek.
Jensen Shawa Solomon Duguid Hawkes LLP created the 'Litigation Action Pack', which contains 22 pieces including toy barristers with accompanying robes and a court bench.
The game is apparently not child-friendly, with the packaging recommending participants be aged 18 to 99 years old (see below).
However, Folklaw thinks Lawgo could bring out the child in all of us.