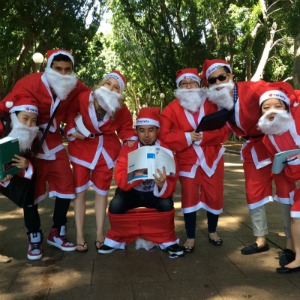 Among the thousands of Santas running through Sydney this weekend as part of Variety's Santa Fun Run will be a group of lawyers raising money to help children in need.
More than 30 lawyers, clerks and staff from Herbert Smith Freehills have teamed up as the 'Termination Clauses' for the 7th annual Santa Fun Run by Variety – the Children's Charity on 6 December.
Herbert Smith Freehills solicitor Zoe Adams-Lau, who is the team leader, said the 'Termination Clauses' have had a mixed training program leading up to the event.
"We all participate in a training regime which involves 30 seconds of push-ups in the office at 10 am every morning as well as eating plenty of chocolate so the suit fits better," Ms Adams-Lau said.
Ms Adams-Lau said Herbert Smith Freehills partner Michael Gonski has been the link to the firms support of Variety – the Children's Charity.
"Our involvement with Variety began through the firm's link to Variety Donor Relations Director Kerry Gonski, who is the wife of [HSF partner] Michael Gonski," she said.
"The run is a great way for us to get together and have some fun while helping provide children in need with access to equipment and therapy."
Many of the 'Termination Clauses' are running for the third year in a row and their goal is to fundraise as much as possible for Aussie kids in need.
Variety – the Children's Charity NSW CEO Tam Johnston said: "The Variety Santa Fun Run is always such a hoot. With your support, we will be able to help more children and families in need this Christmas."
Folklaw wishes the 'Termination Clauses' all the best for the big day.