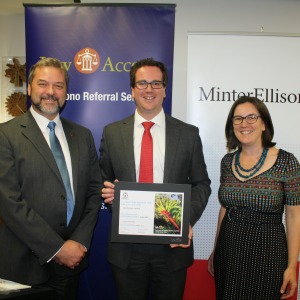 Law Access has received a grant from Lotterywest to help improve the coordination and delivery of pro bono legal assistance services in Western Australia.
WA Attorney-General and Commerce Minister Michael Mischin presented Law Access with a $266,000 cheque at a function hosted by MinterEllison last week.
"The Law Access pro bono referral service operates as a safety net for those needing legal assistance," Law Access chairperson Matt Keogh said.
"We are a service of last resort, matching individuals and community organisations to pro bono lawyers."
Law Access has taken over administration of the Law Society of Western Australia's pro bono referral service, acting as a "safety net" for clients to whom Legal Aid is unable to provide services because of continuing funding restrictions.
"This grant from Lotterywest comes at a crucial time in the establishment of Law Access and its enhanced pro bono referral service," Mr Keogh said.
"As demand for legal assistance exceeds funding for Legal Aid and community legal centres, it is vital to be able to connect those most in need of legal help with the generous lawyers willing to help out."
Applications to Law Access are 'triaged' to identify financially disadvantaged applicants with the most deserving cases. Law Access then works with the legal profession to match these applicants with lawyers who take the matters for no fee or for a reduced, deferred fee.
"The generous lawyers who take Law Access referrals work in many different areas of law and come from small, medium and large firms, with some being sole practitioners, as well as many barristers," Mr Keogh said.
Law Access has made over 76 pro bono referrals since 1 July 2015, compared with 40 referrals in the corresponding period last year, an increase of 90 per cent to date.
Pictured: (Left to right) Attorney-General and Minister for Commerce Michael Mischin; Law Access chairperson Matt Keogh; and Law Access manager Dominique Hansen.