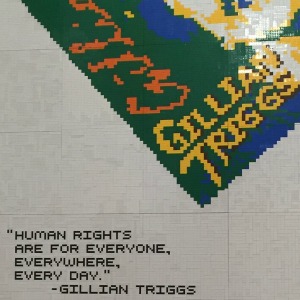 Prominent lawyers are among the Australian human rights campaigners featured in an art installation constructed from more than three million plastic building blocks.
The installation, Letgo Room, is the work of Chinese artist, social commentator and activist Ai Weiwei, and forms part of a joint exhibition with works by Andy Warhol at Melbourne's National Gallery of Victoria.
Visitors to the 'room' will see portraits of 20 Australian champions of free speech, including Melbourne Law School's Professor Dianne Otto; barrister Geoffrey Robertson QC; Emeritus Professor Gillian Triggs, president of the Australian Human Rights Commission; former High Court justice Michael Kirby; and advocate for asylum seekers and refugees Julian Burnside QC.
Each subject was asked to provide a one-line statement reflecting their philosophy and views to accompany their portrait. Professor Triggs, for example, said: "Human rights are for everyone, everywhere, every day."
In developing the artwork, Ai chose Australians who represent grassroots community activism and advocacy within fields that include international law and academia, social welfare and the rights of Indigenous people, asylum seekers, sex workers and gender non-specific persons.
According to the National Gallery of Victoria, Letgo Room was intended to be constructed from Lego blocks; however, Lego reportedly declined to provide a bulk order of the company's product due to the anticipated 'political' nature of the proposed work.
The exhibition, which closes on 24 April, is entitled Andy Warhol – Ai Weiwei and draws parallels between the work of the two artists.