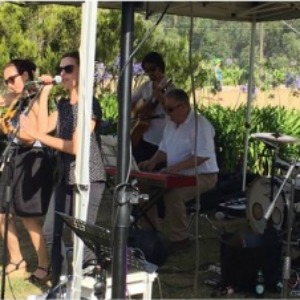 A rock band formed by a group of Lander & Rogers lawyers has hosted a small-scale music festival to raise money for charity.
The band, known as CrashLanders, was formed at a variety night in 2012. Since that fateful night, the group has raised more than $20,000 for a variety of causes, including for charity Very Special Kids and stem-cell treatment for cancer patient Lisa Warwick.
Most recently, CrashLanders held a concert on Red Hill on the Mornington Peninsula for 150 supporters, billed as 'Redstock'.
While 'Redstock' might not go down in musical history, the initiative raised more than $5,000 for women's charity Vumilia.
Started in Kenya in 2004, Vumilia provides education services for disadvantaged women and girls, victims of poverty, AIDS, domestic violence and sexual abuse.
Lander & Rogers partner and guitarist David Whiting said the mini music festival was a great success.
"A fine old time was had by all and in the end $5,000 were raised for the Vumilia cause, thanks to the generosity and support of those who attended," he said.
The band specialises in classic rock, including covers of Fleetwood Mac, The Rolling Stones, Cold Chisel, Elton John, AC/DC and Blondie – and their playing days are far from over, Mr Whiting assured Folklaw.
"The 'Crashers' intend to keep rocking on for charity for some time to come!"