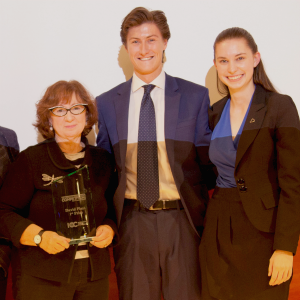 A team from UNSW Law has taken out the title of world champion at this year's ICC International Commercial Mediation Competition.
UNSW Law "gave the performance of a lifetime" during the five-day competition in Paris, according to team coach Dr Rosemary Howell.
Beating 65 teams from more than 50 countries to first prize, UNSW Law demonstrated that the Australian legal profession "leads the world in ADR", said mediator Steve Lancken, a judge at the competition.

Twelve students from UNSW, the University of Auckland and Monash University represented Australasia at the competition.
"Not only did UNSW win but the other two ANZAC law schools, University of Auckland and Monash University, filled second and third places beating teams from all over the world including some from Ivy League and prestigious UK and European universities," said Mr Lancken.
During the competition, which ran from 4 February, teams participated in eight mediation role plays.
To reach the final, teams had to win preliminary rounds of mock international disputes, based on real events with legal, commercial and ethical complications.
It was an "exhausting knock-out process requiring us to work through the night for two nights", said Dr Howell.
"To get to this stage we have been preparing since September 2015 in structured training sessions and intensive practice against real lawyers in 12 of the best law firms," he added.
"We've also spent considerable time on the soft skills – communication, teamwork and advocacy. This combination has a lot to do with our success."
Law students Katherine Mackellar and Connor Taylor represented UNSW at the grand final against the University of Auckland. Their team also featured students Self Rumbewas and Roshan Evans.
The final involved a mock dispute over icing between a world-renowned pastry chef and a caterer.

As part of their prize the students receive coveted internships at the ICC's Centre for ADR and the Centre for Effective Dispute Resolution.
"It was almost universally accepted by the eminent mediators who attended that the quality of the students in 2016 was the best ever in the 11 years of the competition," he said.

Pictured (left to right): Katherine Mackellar and Connor Taylor during the grand final.