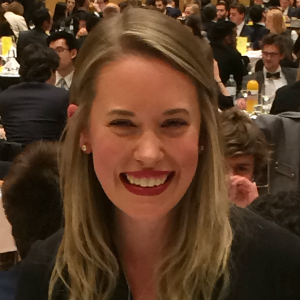 An Australian law student has received the Martin Domke Award for Best Speaker at a prestigious international arbitration moot in Vienna.
Rebecca Lennard (pictured), a fourth-year student from the University of Notre Dame Australia, was one of almost 2,000 other law student competitors who represented 67 different countries in the 23rd Willem C Vis International Commercial Arbitration Moot.
She tied for the top prize with Karmijn Krooshof of Amsterdam and and Dimitri Peteves of Florida.
"While you prepare and practice as much as possible, being a first-time team in the Vis Moot, I never could have anticipated this result," Ms Lennard said.
"Not only is [the award] an incredible personal achievement, but one that the whole team can be proud of – it reflects all the hard work each of us put in over the past months and is the best way of saying thank you to those who supported us the whole way," she added.
This is the first time the Notre Dame University's Sydney-based law school has sent a team to Austria to compete in the international moot. The team delivered a strong performance as runners-up for the pre-moot hosted by the Permanent Court of Arbitration and held at the Peace Palace in The Hague.
Eleven other Australian universities also competed at Vienna, including the University of Sydney which reached the final 8 teams and the University of New South Wales which reached the final 16 teams.
The Willem C Vis International Commercial Arbitration Moot is an annual competition that aims to train future lawyers in methods of ADR and foster the study of international commercial law and arbitration for resolution of international business disputes.
Also representing Notre Dame in Vienna were Sabrina Mobbs, Caroline Michel, Sally Page and Andrea Bennett. Team member Christopher Khalil was unable to join the team overseas. Angus Macinnes, of StevensVauran Lawyers and Svetlana German, a lecturer at the University of Notre Dame, coached the students through the competition.
"To win the best speaker award in our first year at the moot was an outstanding effort by Rebecca, built upon a lot of hard work by the whole team," Mr Macinnis said.
University of Notre Dame senior lecturer Francisco Esparraga, who has served as a judge/arbitrator at the Vis Moot for the last seven years also joined the group in Vienna.
"It was wonderful to see the performances of the students, whom I have taught since their first year at the law school. It was truly a history-making achievement," Mr Esparraga said.
Damian Sturzaker, vice president of the Chartered Institute of Arbitrators Australia, said the organisation had proudly supported the Notre Dame team's participation in the international moot.
"We see these moots as an ideal training ground for the development of necessary skills to practice in international arbitration," he said.
Left to right: Caroline Michel, Rebecca Lennard, Andrea Bennett, Sabrina Mobbs, Sally Page, Angus Macinnis