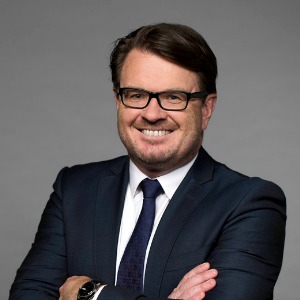 The internet has revolutionised how we use content – and TV companies have been forced to adapt to the new landscape, writes Matthew Kelly.
It was 15 years ago when the music industry won its first battle against unlawful content sharing with the closure of Napster.
Fast-forward to today and we're fighting a slightly different battle that's expanded to the entire entertainment space. While unlawful consumption of content continues to be a serious issue, when it comes to where we get our entertainment from in a legal sense, Australia now plays in a global marketplace.
Thanks to the widespread availability of high-speed internet and the proliferation of portable smart devices, the door has been opened to watch and engage with content like we've never been able to before.
As a result, consumers are demanding more and more of the entertainment they love, whenever and however they want it. Capitalising on this demand, several local and international content-streaming services such as Presto, Netflix and Stan have now launched in the Australian market.
The addition of these services has diversified our local entertainment space, bringing with it an array of new challenges and opportunities for both our business and the public.
As a principal legal counsel at Foxtel, managing this change so that our customers continue to receive the greatest benefit and accessibility to their preferred content is a core part of my job.
One of the biggest challenges we've had to face in this new environment is overcoming our size in comparison to that of our competitors. While Foxtel has the largest local subscriber base and product offering, when up against global juggernauts like Netflix, innovation remains key.
To hold our position in the fiercely competitive entertainment game, we've shifted our business to focus on three core objectives:
1. Enhancing our content rights
There is no question that we are a well-recognised brand in Australia. However, Australia is comparatively smaller than the US or Europe, so we are sometimes limited in what we can buy, sell and produce.
We now share the field with many global players, so innovation must be at the heart of our thinking. This means we need to anticipate changes in platforms as well as content delivery.
To ensure this innovation, we've adapted how we provide content so that subscribers never miss a beat. Take as an example our licensing rights to a number of programs produced by international studios and streaming services. When we identify a long-term successful program, such as Game of Thrones or Orange is the New Black (which is also a Netflix original series), we also hold the right to license all subsequent seasons.
How does this work? Our commitment to the best content over the last 20 years has seen us create partners all over the world including HBO, AMC and Lionsgate Television.
Our arrangements allow us to offer each episode on demand through our Anytime service. For Orange is the New Black, we have ensured that our viewers can access content as they desire, and so we launch each series with a season-long marathon. This means we can offer the show in both a linear and on-demand environment almost immediately.
2. Creating new content that fits the Australian lifestyle
With the pressure on to provide the best content, we've had to be creative and show initiative in what we bring to market. To do this we've drawn on our 20 years of local experience to listen to the Australian consumer and what they want.
This includes a significant investment in locally driven content, which ultimately fuels jobs and spurs on local talent and creativity. Examples of success include sports broadcasting and our own produced shows, including Wentworth, A Place to Call Home, Deadline Gallipoli, River Cottage Australia, The Real Housewives of Melbourne, Australia's Next Top Model, Gogglebox, Selling Houses Australia and more. Our local content can be as popular, if not more so, than anything we license from overseas markets.
3. Creating a platform that provides unparalleled access to entertainment
The landscape isn't the only thing that's changed. As a business, we've adapted our thinking and implemented a strategy that's seen us diversify our offering.
This includes the introduction of our mobile service, Foxtel Go, and Foxtel Anytime on our set-top boxes, which combine to allows subscribers to view content any time, anywhere and on any device as part of their existing subscriptions.
Matthew Kelly is the principal legal counsel at Foxtel and will be will be discussing this issue in greater depth at the Licensing Executives Society Australia New Zealand (LESANZ) Annual Conference on 4 and 5 May 2016 in Sydney.