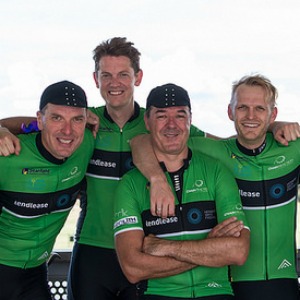 A Herbert Smith Freehills partner completed a 1,000km ride from Canberra to Melbourne and raised more than $23,000 to help sick children in the process.
Brendan Quinn, head of finance Australia and Asia at Herbert Smith Freehills, recently took part in the 2016 Chain Reaction Victorian Challenge as part of a joint Herbert Smith Freehills and Lendlease team.
The seven day 1,000-kilometre ride from Canberra to Melbourne crossed the Snowy Mountains and the Victorian Alps, and climbed 10 mountain peaks totalling 20,000 metres of climbing.
"It was an amazing challenge and we were certainly tested when climbing the many mountains along the course. What kept me and the team going was the huge amount of support we had from family, friends, colleagues and clients who had donated to the cause," Mr Quinn said.
"I have been overwhelmed and humbled by everyone's generosity, which has seen me personally raise, to date, $23,650 and our team raise more than $210,000. The ride overall has now raised more than $1 million."
All of the money raised will go to the Starlight Children's Foundation and Monash Children's Hospital.
Herbert Smith Freehills business development manager Michael Knoff also completed the challenge.
Pictured (left to right): Josh Slattery, Peter Hunt, Marcus Ryan, Brendan Quinn, Dustin Adderley, Kriston Symons, Michael Knoff and Rodger Teale.