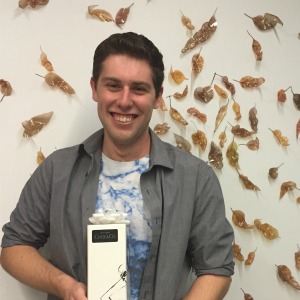 Up-and-coming artists have had the chance to showcase their work to partners and clients of a major global firm.
For the third year running, Clyde & Co has hosted the Australian Art Awards, featuring 30 artists who exhibited their work at the firm's Perth and Sydney offices.
The winner of the Perth award, which was announced last week, was 20-year-old Mitchell Davies, for his installation Artificium.
Mr Davies said relatively unknown artists often struggle to get their work recognised.
"Emerging artists face challenges such as lack of gallery and public interest," he said.
"Similarly we have to position to move public thinking away from the idea that unless it's not a pretty painting or drawing, it's not art," he added.
"For this reason, and others, I am so honoured to have my work on display at Clyde & Co and it makes me so happy to have received such positive feedback."
The Sydney winner was announced in February this year, with the award going to Hannah Pembroke for her acrylic on canvas piece Still Steal.
In each office, winners were selected by a panel of judges made up of partners and staff from the firm.
The firm also awarded staff choice awards, which went to Caitlyn Warner in the Perth competition and Daniel Grosz in Sydney.
This year's exhibitions featured undergraduate students aged from 20 to 55 from North Metropolitan TAFE (formerly Central Institute of Technology), Curtin University, Edith Cowan University, National Art School, Sydney College of the Arts and UNSW Art & Design.
The works will be exhibited at the Clyde & Co offices until the end of the year, when a silent auction will be held for the collection.
Students will receive the full value of the successful bids and a payment for having their artworks on display, as well as access to pro bono legal advice relating to their careers.
Winners will also receive an additional cash prize.
L to R: Clyde & Co partner Beth Cubitt, Mitchell Davies and Clyde & Co partner Jenny Thornton in front of Davies' work Artificium.