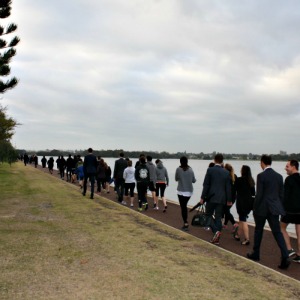 Members of the legal profession participated in Walk for Justice events across the country last week on National Pro Bono Day.
The inaugural Western Australia Walk for Justice event on 17 May raised funds for Law Access, WA's pro bono clearing house, which matches those in need of legal assistance but who are unable to pay with a lawyer to assist on a pro bono basis.
"The Law Access pro bono referral service operates as a safety net for those needing legal assistance," Maria Saraceni, director of Law Access said.
"The committed lawyers who generously accept Law Access referral work in many different areas of law should be commended and recognised for the role they play in ensuring that access to justice is widely available."
Since 1 July 2015, Law Access has received nearly 400 applications for pro bono assistance and has made more than 135 pro bono referrals, many of which involved referral both to an instructing lawyer and a barrister.
Chief Justice of Western Australia, the Hon Wayne Martin AC, opened the Walk for Justice and led the walkers (pictured) from the Bell Tower at Barrack Square to Point Fraser and back.
A number of prominent event ambassadors, including eminent members of the judiciary and heads of legal professional associations, joined the walk.
Meanwhile, in South Australia, the Walk for Justice event raised funds for JusticeNet SA and in Queensland, the Queensland Legal Walk raised funds for the Queensland Public Interest Law Clearing House.