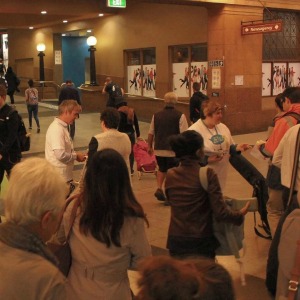 The SA Legal Services Commission turned out at Adelaide railway station last week to help commuters get on the right legal track.
The so-called 'transit solicitors' offered passers-by at the station a free legal health check-up.
The service allows lawyers to quickly pinpoint a range of legal problems clients might face before they develop into major issues, Commission director Gabrielle Canny explained.
"Our physical health is very important, but so too is legal health," she said, comparing the service to a doctor's check-up.
"In a nutshell, this new initiative helps South Australians take basic steps to ward off legal problems. Prevention is better than cure, so it's important to identify legal issues promptly."
The services covers neighbourhood disputes, financial or consumer issues, family matters, workplace matters, personal safety risks and future planning such as wills and advance care directives.
"Legal Health Check is a practical tool to help 'diagnose' the legal needs of South Australians," Ms Canny says.
"When problems are identified, we can refer the client to the service that best suits their needs."
In some cases, this may extend to offering the client free legal assistance, advice and information – and for those who qualify, legal aid.
The program corresponds to a recommendation by the Productivity Commission to develop legal health checks, according to Ms Canny.
"This initiative responds to that recommendation and to the escalating demand for legal help among ordinary South Australians including disadvantaged families in our community," she said.