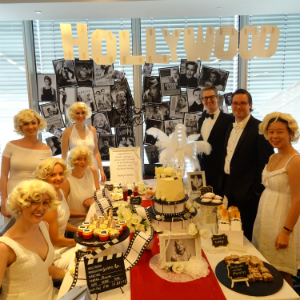 Marilyn Monroe, the Winter Olympics and unicorns were all featured at a Clayton Utz charity event to raise awareness and funds for ovarian cancer research.
Clayton Utz lawyers donned white garb for a day in support of ovarian cancer research at its White Tea fundraiser last month. The lunchtime function was held in the firm's Sydney office, with lawyers hosting team tables of various themed menu items. 
Teams vied for top place on the White Tea leader board, and were scored on their table décor, food and costumes.
Clayton Utz community connect manager Marcus Ross said the charity event was one of the highlights of the firm's fundraising calendar.
"There were a number of prizes to give out, but the overall winning team was black and white films, for their fantastic effort of dressing like Marilyn Monroe and in tuxedos, and theming their food perfectly to the movies," Mr Ross said.
Editor of Delicious magazine, Kerrie McCallum, and UNSW senior research fellow Caroline Ford awarded the 2016 White Tea trophy to the winning team.
Other white table productions for the event included the White House, Winter Olympics, Derby Day and unicorns.
The Ovarian Cancer Research Foundation (OCRF) supports ovarian cancer research with the goal of raising awareness and vital funds for the development of a test for early detection. In Australia, ovarian cancer is the most common cause of death from a gynaecological cancer. Due to its limited specific early detection signs, diagnosis of ovarian cancer often occurs at an advanced stage and with patient remission less likely.
This year, the lawyers' lavish spread raised $10,000 for the OCRF, with an extra $5,000 grant contributed by the Clayton Utz foundation.
The firm's annual event has raised almost $65,000 for the foundation since 2012.