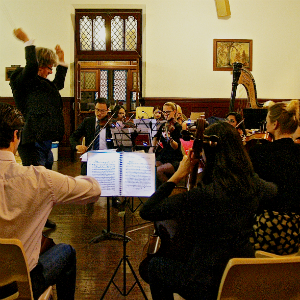 The Sydney Lawyers Orchestra has filled the hall of St Stephen's Uniting Church in Sydney to raise funds for Fiji.
More than 150 people packed St Stephen's church hall on Macquarie Street to attend the performance.
The 25-piece orchestra, conducted by Corrs Chambers Westgarth partner Thomas Jones, played to the music of Pietro Mascagni, Ralph Vaughan Williams and Franz Joseph Haydn. The midday performance ended with Memory from Andrew Lloyd Webber's musical Cats.
"It's a chance for us to get together and make music, to share our talents, to do something different from what you might be doing during the day," Mr Jones said.
The special concert was held to raise funds for the Save the Children's Fiji cyclone appeal, after tropical cyclone Winston tore through the island nation early this year. The category 5 tropical cyclone was the strongest recorded storm to hit land in the Southern Hemisphere, claiming lives and leaving behind a trail of destruction.
Around $700 in donations for Save the Children was collected at the concert door, with the figure matched by Corrs Chambers Westgarth partners to total over $1,500.
Mr Jones, who has played violin professionally for more than 25 years, founded the Sydney Lawyers Orchestra. He said the musicians enjoyed the creative outlet and collegiality that the lawyers' orchestra offered.
"A lot of lawyers are very gifted people who've got wide-ranging interests and abilities, and this gives them a creative outlet and it helps build a sort of fellowship within the profession and the relationships with the community as well, so we can reach out to the community and do things like this – play concerts and raise money for various organisations," Mr Jones said.
Represented within the orchestra's ranks are instrumentalists who hail from the bar, private practice, in-house departments and students from Sydney's law schools.
"There are people from commercial firms, people from the bar, there have been at various times judges, there have been people from in-house legal positions and there are some law students as well from both the University of Sydney and UNSW," Mr Jones said.
This is the group's fourth formal concert since it was founded in 2014. The Sydney Lawyers Orchestra is also billed to play in Canberra for the High Court of Australia's Sunday concert series in October later this year.
"We'll probably be doing some other concerts in Sydney as well – the Christmas concert has become a bit of a tradition," Mr Jones said.
The Sydney Lawyers Orchestra playing Mascagni's Intermezzo (from the opera "Cavalleria Rusticana")