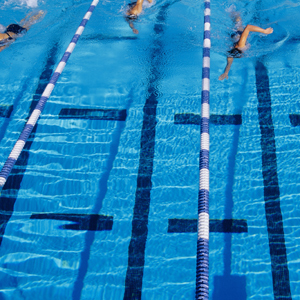 Bartier Perry has beaten teams from the large national firms to win the Lawyers Acquatic Challenge.
Held at the Andrew Boy Charlton Pool last Friday (17 February), Sydney-based Bartier Perry once again scooped the pool to win the legal swim-off for the fourth year in succession, defeating teams from larger firms such as Baker & McKenzie, Henry Davis York, Clayton Utz, Gilbert + Tobin and Blake Dawson.
"We like the idea that we can beat them in the law and also in the pool," said Bartier Perry executive lawyer Michael Cossetto, slightly tongue-in cheek.
The event features teams of 10 swimmers, with some firms like Bartier Perry and Freehills rustling up enough speedos and goggles to have two teams competing.
The program is broken into three age groups. The young tyros take-off their Ipods for a few minutes to thrash it out in the under 35 age group; swimmers who can remember when Bob Hawke was Prime Minister get to go head to head in the 36 to 50 age group, where Cossetto struts his stuff; and lawyers who might remember when the noted togs wearer Harold Holt took his final dip thrash it out in the over 50s section.
Events include a mixed medley relay, 50 metres freestyle for men and women, and novelty races where points are awarded for the speed in which teams can rescue lawyers pretending to be in distress for the purpose of the competition.
Cossetto, a former champion junior swimmer, has been in the Bartier Perry team on each occasion they have taken out the title. He said that although "there is an element of seriousness and lawyers are quite competitive by nature", the attitude of participants is "to have a bit of fun".
Following the event, most competitors stick around to replenish the fluids lost in the flurry of swimming activity.
The event is hosted by the Bayside Swimming Club, based in the beachside Sydney suburb of Maroubra. It is a fundraising event to help send swimmers from the club to compete at the Australian Age Swimming Championships.
Naiman Clarke and K Katering were the major sponsors.
Folklaw, which is more likely to be seen on the deck of the Boy Charlton pool enjoying the harbour views with a mango smoothie (seriously very good) than swimming laps in the pool below, congratulates all swimmers that took part.