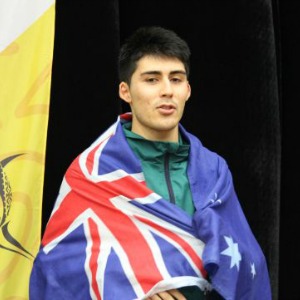 A Sydney solicitor has qualified to represent Australia in the sport of taekwondo at the Rio Olympics.
Hayder Shkara will make his Olympic debut later this year after a series of high-profile wins on the international taekwondo circuit.
Mr Shkara holds a dual degree in Laws/Communications from the University of Technology Sydney and is currently working at Russell Byrnes Solicitors.
Mr Shkara narrowly missed out on qualifying for the London 2012 Games after losing the Oceania Olympic Qualification Tournament to New Zealand's Vaughn Scott.
This year, he defeated Mr Scott at the same tournament to claim his spot at the Games.
He was also part of the Australian team's successful run at the 2015 Pacific Games, and claimed three bronze medals at the 2015 Polish, Russian and Serbian Opens.
Mr Shkara has a passion for social justice, having founded the Youth Centre to help disadvantaged people, particularly young migrants, in Western Sydney.
In an interview with the ABC, Mr Shkara – whose father is from Iraq and whose mother is Japanese – drew attention to the ongoing racism he believes is still prevalent in Australian legal circles.
"Going through law school, where it's very dominated by white Anglo Saxons, it's a very white culture, you feel like you don't fit in," he told the reporter.
"If you didn't go to a private school, if you didn't play the sports that everyone at law school used to play, like rugby, sailing and rowing, if you [were] doing something strange like taekwondo and had a different migrant background, automatically you were outcast."
He also pointed to the ongoing bias against Asian-Australian lawyers, revealed in statistics by the AALA.
"I was reading a study the other day and you can see that there was 0.8 per cent of Asian Australians that have been promoted to the judiciary in Australia, which is just a ridiculous figure if you think about all the Asian-Australian lawyers that you've seen," he said.