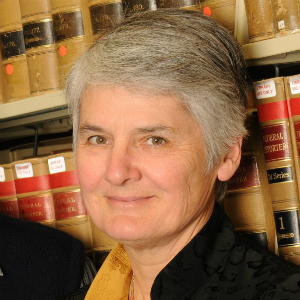 Australian legal academic Professor Jane Stapleton will be the first woman and foreign academic to head the 500-year-old Christ's College Cambridge as its 38th master.
The distinguished roll call of masters at Christ's College Cambridge has collected the names of 37 academic luminaries. The list stretches back to 1505 and includes naturalist Sir Charles Darwin. Every person to hold the prestigious title has been an English man – until now.
The college recently made the historic announcement that Jane Stapleton would serve as its next master. She will leave the ANU College of Law to join Christ's College this month.
ANU College of Law Dean Professor Stephen Bottomley said the achievement was "by any measure, an honour of the highest order and it is a clear reminder – should it be needed – of Jane's stellar reputation in the global community of legal scholars". 
Ms Stapleton, who specialises in the law of torts, has enjoyed a distinguished international academic career. She is a Fellow of the Australian Academy of Law and has three doctorates; a PhD in physical organic chemistry, a PhD in law and is a Doctor of Civil Law from Oxford.  
Ms Stapleton said was looking forward to working with a vibrant mix of academics and students and that the Cambridge self-governing education model presented as an attractive part of her new role. The college is a democratic institution run by all of its academics.
"This is one of the great institutional dynamics that's been created for education and to be part of that, and to assist it, will be deeply rewarding," Ms Stapleton said.
She has taught and lectured internationally as a visiting professor in the UK, the US, Germany, Italy, Spain, Norway, Canada, Brazil, Columbia, New Zealand and China. Concurrent to her role at ANU, she was appointed Ernest E. Smith Professor of Law at the University of Texas and is the only non-US council member serving the American Law Institute.
In the UK, Ms Stapleton was the first woman to be elected as an Honorary Fellow at St John's College Cambridge and previously held positions as Visiting Professor at Oxford and Emeritus Fellow at Balliol College, Oxford. She is also an Honorary Bencher of Gray's Inn.
Ms Stapleton will be joined at the University of Cambridge by her husband, Professor Peter Crane. The legal academics were appointed as ANU professors together 20 years ago.

Academic duo, professors Peter Crane and Jane Stapleton. The husband and wife team will leave ANU to take up roles at the University of Cambridge.