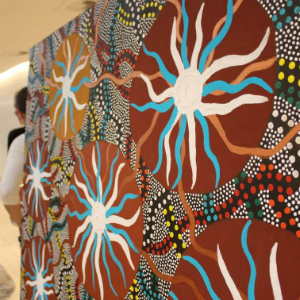 Firms have celebrated Australia's Aboriginal and Torres Strait Islander people with a special curation of social, academic and cultural events for NAIDOC week.  
This year's NAIDOC theme was 'Songlines: The living narrative of our nation'. The week of celebration has been held annually for the past 78 years and aims to cast a spotlight on some of the oldest continuing cultures on earth.
At Corrs Chambers Westgarth, digital projections of Dreamtime art featured on office walls. The exhibition featured the work of sister artists Sarrita and Tarisse King, whose distinctive central and western desert dot painting depicts the topographic rise and fall of the land.
Corrs also hosted a variety of activities across the capital cities. In Perth, lawyers were treated to an Indigenous heritage tour. A video about the importance of songlines was screened in Melbourne. A NAIDOC picnic and family fun day were organised for Sydney and Brisbane respectively.
According to Corrs partner Annette Hughes, who chairs the firm's diversity council, the recent NAIDOC celebrations are part of the Corrs' "commitment to engagement and reconciliation".
"The NAIDOC Week events and the songlines theme, following on from our national cultural awareness sessions, will help to further raise awareness and understanding amongst our people about the importance of Indigenous history and culture. We are delighted to have seen so many people getting involved," Ms Hughes said.
Global firm DLA Piper used NAIDOC week as an opportunity to release a new action plan for reconciliation. DLA launched its first action plan in 2012 and since that time has delivered pro bono legal services to Aboriginal and Torres Strait Islander people worth more than $1.5 million. A range of individuals and organisations have benefited from the firm's pro bono work, which has included legal assistance for the treatment of young people in juvenile detention and coronial inquests.
Access to justice is a key focus of the new action plan, which has committed to providing pro bono legal advice totalling $2 million over the next three years. The second plan builds on lessons learnt since 2012 and aims to increase impact and engagement.
DLA managing partner John Weber said that partnering with and learning from Indigenous people allows lawyers to play a part in addressing some of Australia's major social challenges.
"Partnering with and learning from Aboriginal and Torres Strait Islander peoples, communities and organisations represents a meaningful opportunity to help address some of our country's greatest social challenges, and to be part of the reconciliation efforts of the wider Australian business community," Mr Weber said.
Acknowledging the impact of DLA's pro bono services, national Reconciliation Action Plan (RAP) partner David Nancarrow underscored the importance of partnership in reconciliation.  
"Our firm has an outstanding pro bono practice, and a long history of acting for Aboriginal and Torres Strait Islander individuals and organisations to provide access to justice.
"But while we are rightly proud of those achievements, the greater goal of reconciliation between Aboriginal and Torres Strait Islander and other Australians requires a genuine humility, a deep mutual respect, and a willingness to find common ground and pursue common goals in partnership," Mr Nancarrow said.
The action plan was launched at DLA Piper's Sydney office in conjunction with an art exhibition by Wiradjuri and Wongaibon artist Graham Toomey. Speaking at the launch was Melbourne University chair of Indigenous health Professor Kerry Arabena, who is also a board director of Indigenous Community Volunteers.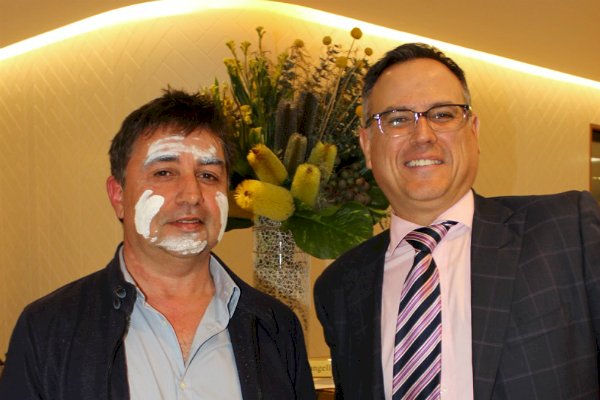 An exhibition of works provided by artist Graham Toomey (left) was hosted by DLA Piper to coincide with the RAP launch. Firm partner Peter Jones is pictured beside Mr Toomey.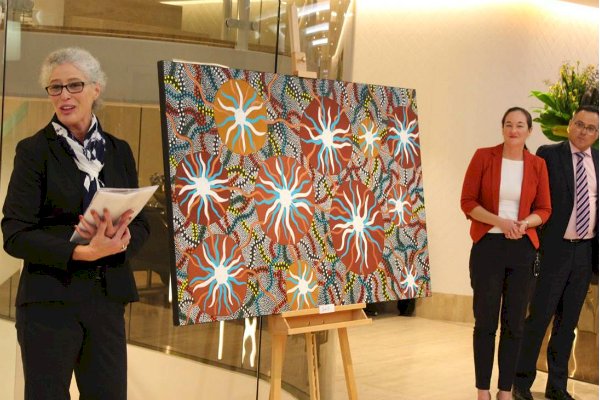 L-R: Melbourne University Professor Kerry Arabena, Elise Williams and Peter Jones at the RAP launch event last week.