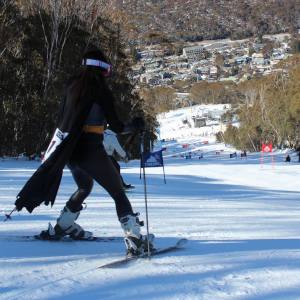 Over 300 legal professionals have rugged up to take part in the annual Lawski event at Thredbo, which saw over $16,000 raised for charity organisation Batyr.
This year's Lawski event saw a plethora of activities take place, including events on and off the mountain, culminating in a big gala dinner and prize giveaways.
The event kicked off on Thursday 28 July with the Law In Order Freeze-Down Drinks, which saw attendees get down on the dance floor to tunes supplied by The Groove Academy.
Friday and Saturday saw lawyers don their warmest ski gear to hit the slopes for the official competition.
Some decided a creative costume was a better option, with the most notable including Ashurst's Ed Carroll dressed as Chewbacca and defending individual men's champion Tom Jalland dressed as a power ranger.
The official competition saw each racer have two runs. The fastest combined time decided the individual award, and the six best out of eight times were counted for the team awards.
Tom Jalland retained his title as the fastest lawyer on the slopes, followed by Josh Knuckey from Clayton Utz and Chris Chow from Chris Chow Creative Lawyers.
Melysha Turnbull from William James was the fastest female on the slopes, followed by Georgia Quick from Ashurst and Lucy Steggles from Gadens.
Ashurst took out the trophy for the fastest team, which included Tom Jalland, Georgia Quick, Camilla Clemente and Bill Reid.
Frank Bannon from Clayton Utz won the Over the Ski Hill Award, Dwana Walsh from Montgomery Advisory was the fastest female snowboarder and Tae Royle from Ashurst was declared the fastest male boarder.
Following the race, attendees frocked up for the black-tie SKIMAX presentation dinner.
The major lucky door prize provided by SKIMAX was a trip to Jackson Hole, which was scooped up by Geoff Dimarhos from Mills Oakley, and a trip to Aspen which was awarded to Georgia Quick.
The 2016 Lawski event saw participants raise $16,851 for Batyr, a charity organisation that focuses on youth mental health education and 'giving a voice to the elephant in the room'.