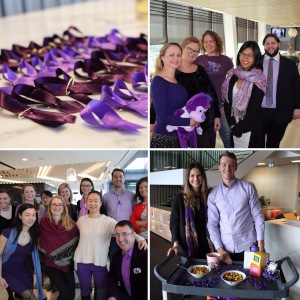 Lawyers from Corrs Chambers Westgarth have donned their best purple attire to support young people who identify as sexuality and gender diverse.
As part of Wear it Purple Day, Corrs lawyers dressed up and decorated its offices across the country in purple.
Wear it Purple is a student-run, not-for-profit organisation that seeks to raise awareness about the issues faced by young people and the need to eradicate bullying based on sexuality and gender diversity.
"Wear it Purple believes that everyone has the right to be proud of who they are and this is in line with Corrs' commitment to creating an environment where people are free to bring their full identity to the workplace," Corrs partner and diversity council chair Annette Hughes said.
"We are determined to drive diversity, equality and inclusion in the legal profession, and this includes sending out our message of support to the young and old.
"We were thrilled to see so many Corrs people decked out in purple on August 26."
Last year, more than 120 workplaces, 193 schools and 29 tertiary institutions celebrated Wear it Purple Day.