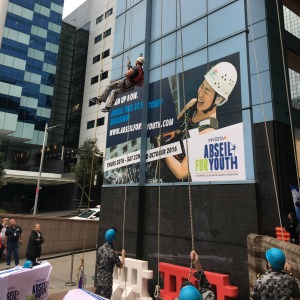 Norton Rose Fulbright associate Mitchell Kelly recently abseiled down a building in Sydney's CBD as part of the Investa Abseil for Youth 2016 event.
Mr Kelly battled his fear of heights when he joined 400 other fundraising thrill-seekers to descend 135 metres down the 33 storey building at 1 Market Street last week (pictured).
Abseil for Youth supports the Sir David Martin Foundation, a non-profit organisation created in 1990 by the late Governor of NSW, dedicated to helping young people in crisis.
The charity funds programs such as Mission Australia's Triple Care Farm to support young people suffering from problems such as substance addiction, homelessness, mental illness, disengagement from society, abuse, unemployment and family breakdown.
Mr Kelly raised over $6000, contributing to the $230,000 raised over all.
"Abseil for Youth was an incredible experience," Mr Kelly told Lawyers Weekly.
"It pushes you right outside of your comfort zone – which from a fundraising perspective is great because it means that people get behind you knowing that you are literally putting your body on the line for charity."
He continued: "Lawyers are often perceived as conservative in nature, so it is great to shake up the image by doing something like this."