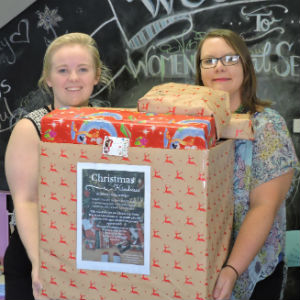 A record number of Christmas gifts have been donated to families affected by domestic violence as part of an annual kindness campaign.
Some Christmas cheer has been delivered to the clients of the Queensland Women's Legal Service (WLS), who are the recipients of an annual kindness campaign supported by the state's law society.
More than 500 presents were donated to the legal and welfare support provider, which is also a 2016 community partner of the Queensland Law Society (QLS).
QLS CEO Amelia Hodge expressed her pride in the support shown by the Queensland legal fraternity for some of the community's most vulnerable.
"The staff at QLS and I hope that our contributions will assist in some small way this holiday season.
"Last month we again supported the service's White Ribbon Legal Profession Breakfast, and I look forward to showing our support for such an admirable organisation in the future," Ms Hodge said.
Angela Lynch, the co-ordinator of the WLS, added her thanks to those who made donations.
"For some of our clients these are the only gifts their children receive. Some tear up when they're offered a present. Knowing people care makes a difference in the lives of the women and children we help," she said.
This calendar year the WLS is set to have assisted 10,000 women; however, the organisation has reported that the demand for its services continues to exceed its resources, with 40 per cent of calls currently going unanswered.