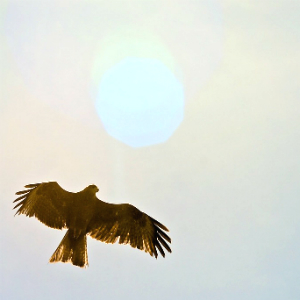 A sculpture developed by a local artist in conjunction with TAFE students has featured in an event marking the official start of the legal year in Victoria.
The Geelong Law Courts hosted the first event to mark the new legal year in Victoria this week, with a sculpture of Bunjil the giant eagle watching over proceedings.
The sculpture, created by a team of TAFE students with artist Brett Smith, was part of a special exhibition that featured the works of Indigenous Wathaurong country artists.
Other pieces on display for the opening of the legal year event included pieces by Nathan Patterson, Raymond Walters, Kerri Black, Bronwyn Razem and Wathaurong Glass.
An additional project entitled 'Starting the conversation' also featured in the showcase. The selection of curated works by students of Geelong's St Josephs College deals with the impact of gambling on Aboriginal communities.
Supreme Court judge Clyde Croft presided over the ceremonial sitting and was joined by Chief Magistrate Peter Lauritsen and regional coordinating magistrate Ann McGarvie.
Elder Aunty Fay Muir also joined the group on the bench. Ms Muir is one of eight elders who sits on the Koori Court in Geelong.
According to a statement posted on the Supreme Court website, Justice Croft spoke about the role of the courts and the rule of law in his remarks. He also reflected on the recent 175 year anniversary of the Supreme Court, which passed last year.  
Plans for the Indigenous artwork exhibit to be on permanent display at the Geelong precinct are said to be "under consideration".