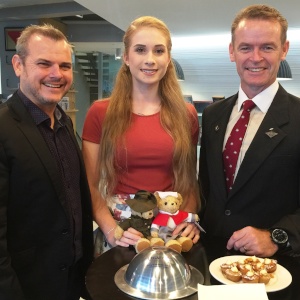 In the lead up to Anzac Day next week, one firm has dedicated its monthly dress-down day and fundraising morning tea to Legacy Brisbane.
Staff and partners at Australian firm McCullough Robertson have committed their resources to the organisation, which relies on the support of the community to provide vital services to more than 70,000 families of Australian service men and women.
Among the attendees at the morning tea, in the firm's Brisbane office, was Legacy Brisbane CEO Brendan Cox, who served in the army for 26 years and a veteran of Afghanistan, East Timor and the former Yugoslavia.
Interestingly, Mr Cox previously worked with McCullough Robertson as part of its workplace wellbeing program, sharing his insights around providing emotional support and understanding in the face of adversity, according to a statement from the firm.
Also in attendance at the morning tea was 20-year-old nursing and paramedic science student Brianna Anderson, who gave a captivating speech about how Legacy stepped in to support her family when her father, a former SAS soldier and police officer, was diagnosed with early onset dementia due to a military-related concussion.
"I was six years old when Dad received his diagnosis, 11 years old when he was moved to a nursing home, and 17 years old when he died," said Ms Anderson to the crowd.
"My childhood memories include helping Mum clean up after Dad left the taps running, feeding him lunch in the nursing home and helping him move around to keep his mobility for as long as possible. It was a tough time."
Ms Anderson noted that Legacy helped with the costs of schooling for her and her sister, and provided much-needed respite through Legacy's Kids Camps she attended.
As part of their commitment to supporting those Australian service men and women, McCullough Robertson is encouraging the community to dig deep this Anzac Day and show their support for those "who made the ultimate sacrifice for their country" by making an online donation to Legacy.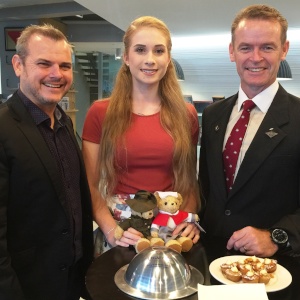 Pictured left to right: McCullough Robertson partner Cameron Dean, Brianna Anderson and Legacy Brisbane CEO Brendan Cox.