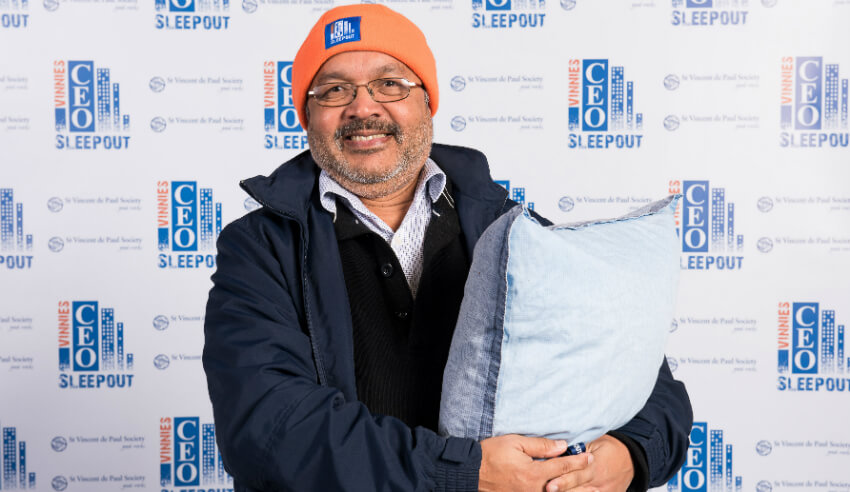 Leaders of the legal profession have spent a rough night on the streets to help raise funds for services to support Australians experiencing homelessness.
Lawyers are among a number of business leaders to turn out in force for the annual Vinnies CEO Sleepout.
Last week Clarence Kunnel (pictured), the CEO of Holding Redlich, spent a night sleeping rough in Melbourne.
"There are too many men, women – and children – sleeping rough on the streets.
"It is important to look at ways to reduce this issue and help get people on the paths to a better life," Mr Kunnel said.
The St Vincent de Paul Society estimates that approximately 105,000 people are homeless across Australia, with many sleeping in conditions far less comfortable than the CEOs who sleep outside for the annual event.
That number is an increase in Australia's homeless population by about 8 per cent since the last census.
Mr Kunnel said that in Victoria, the issue of homelessness has received recent attention with new council laws giving authorities extra powers to clear away makeshift camps in the public spaces of the CBD.
"Homelessness is a major issue for our cities and unfortunately the problem is getting worse. This just serves to make life even tougher for homeless people," he said.
In over eight years participating in the annual sleep out, with cardboard for shelter and soup for dinner, Mr Kunnel has raised a total of $53,879. This year his fundraising tally has hit above the $6,000 mark.
Last Thursday, NSW Bar Association president Arthur Moses SC also braved the winter cold in Sydney. The barrister raised a whopping sum in excess of $29,000 for this year's event alone.
Organisers of the Vinnies CEO Sleepout use the initiative to educate business leaders about the prevalence and causes of homelessness in Australia.
Unemployment, family breakdown and drug and alcohol abuse are some of the contributing factors that experts link to homelessness.
Vinnies added that homelessness could exacerbate or trigger serious mental health problems, accompanied by "a heightened vulnerability to violence".