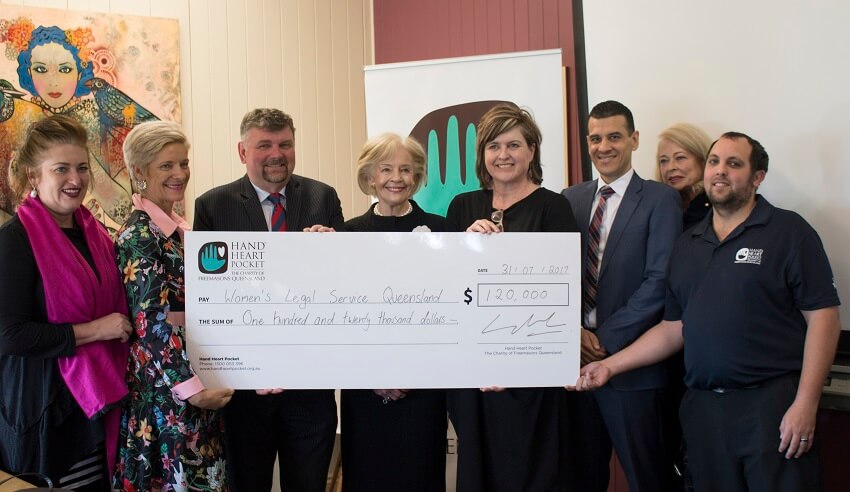 The Women's Legal Service Queensland (WLSQ) has received a donation that will allow it to keep providing vital domestic violence services.
WLSQ announced yesterday that it had received a $120,000 donation from Hand Heart Pocket, an independent charity founded by the Freemasons Queensland.
The funding will enable WLSQ to continue running Queensland's only statewide specialised domestic violence legal helpline for the next three months, while it tries to secure longer-term government funding.
WLSQ will also use the money to conduct community training in Emerald and Rockhampton, and to update its website to make it easier to navigate.
"With 71 women killed by domestic violence (DV) last year, one quarter of those in Queensland, this is no time to allow legal assistance to DV victims to be cut," said WLSQ CEO Angela Lynch (pictured).
"We are immensely grateful to Hand Heart Pocket for stepping in and providing critical assistance while we look to secure additional long-term government funding for this essential service.
"Women's Legal Service provides free legal and welfare support to Queensland women and their children affected by domestic violence and, without ongoing funding, 13,000 calls for help per year would go unanswered."
Gary Mark, CEO of Hand Heart Pocket, said the charity was proud to support service that had already helped over 100,000 women and children in Queensland affected by domestic violence.
"Hand Heart Pocket believes in providing sustainable support by giving a hand-up – not a handout – to communities, other charities and individuals," Mr Mark said.
"We look to fund initiatives that have real, life-changing potential to those most vulnerable in our community and are proud to partner with WLSQ to help affect change on this issue."
"With domestic violence rates at an all-time high, it is more important than ever that the organisations providing front line support can continue to keep up with the demand."
Pictured L-R: Amanda Stein (owner of Panda Pearls, Women's Legal Service Ambassador), Marisa Vecchio AM (owner of Hanworth House, Women's Legal Service Ambassador), Gary Mark (CEO, Hand Heart Pocket), The Hon. Dame Quentin Bryce AD CVO, Angela Lynch (CEO, Women's Legal Service Queensland), John Aronis (Board Member, Hand Heart Pocket), The Hon Margaret McMurdo AC (Women's Legal Service Patron), Thomas Christensen (Hand Heart Pocket Champion).