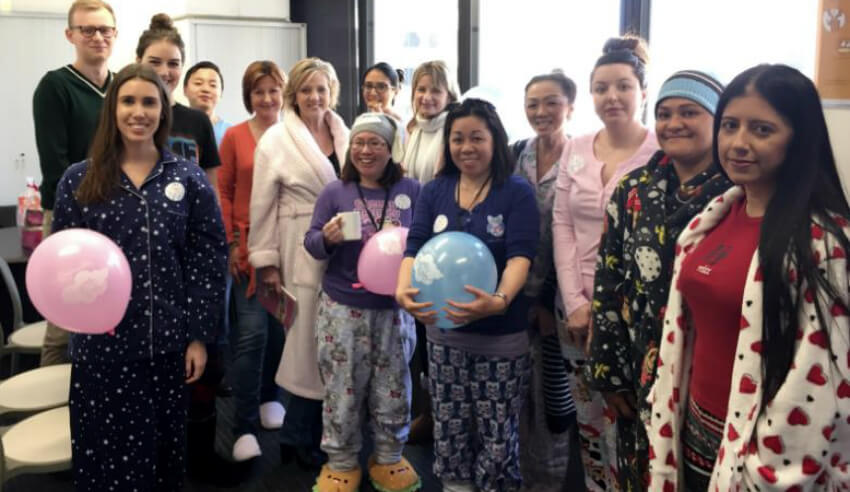 A national firm has supported the work of The Pyjama Foundation for its annual fundraising initiative to help the learning and wellbeing of children in foster care.
Sleepwear made for perfect office attire in the Brisbane, Sydney and Melbourne offices of Macpherson Kelley earlier this month, with staff at the law firm participating in National Pyjama Day.
For one day only, lawyers and support staff from across the firm opted for a variety of options, including onesies, traditional matching sets of PJs and polar fleece dressing gowns – all in a bid to support efforts to help foster children.
Macpherson Kelley managing partner Damian Paul said that the pyjama parade was just as much about raising awareness as raising money.
"After the success of last year, once again we have encouraged our staff to get behind a fantastic cause and don their very best sleepwear to support the Pyjama Foundation's National Pyjama Day.
"We hope our efforts inspire others to get on board to help raise awareness and funding so The Pyjama Foundation's valuable work can continue," Mr Paul said.
This is the second year that the firm has backed The Pyjama Foundation in its annual drive to raise funds for some of the 51,000 Australian children in care.
The firm's public ancillary fund, the Macpherson Kelley Foundation, helped to organise the event.
"The foundation was brought into existence to create a meaningful and effective way for Macpherson Kelley and its clients to engage with and provide financial and other support to causes we are passionate about," the firm said.
"Getting involved in days like this is just one of the many ways the foundation enables staff to make a difference in the lives of those in need."
A statement from the firm added that they also offer complementary services to clients, with a view to helping achieve their philanthropic goals.