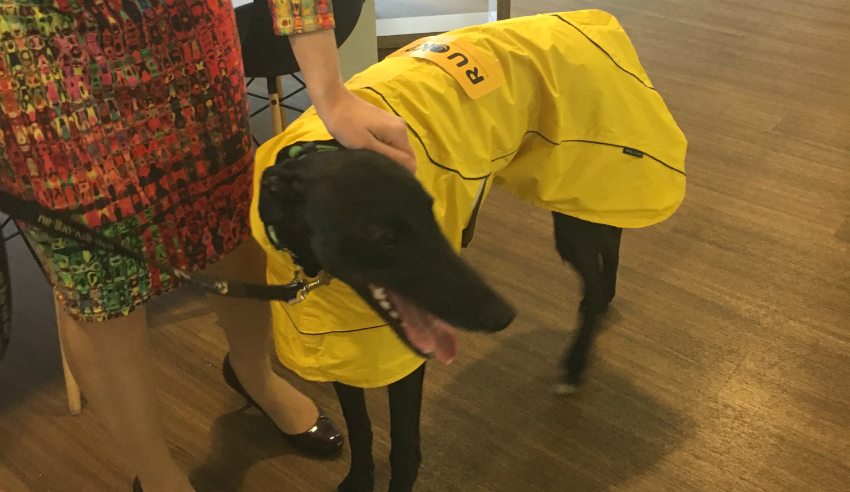 Tommy, the pet pooch of a partner at Holding Redlich, has turned heads in the workplace for a very good cause.
The Melbourne office of national firm Holding Redlich has been treated to the company of a sweet-natured greyhound to mark R U OK? Day this month.
Kathryn Howard, a dispute resolution and litigation partner and RU OK? Day board member, brought her four-legged friend along to star at the annual office morning tea for the mental health awareness day.
The dispute resolution and litigation partner said that Tommy was an excellent ambassador for the occasion.
"The reason I brought in Tommy was to help spread the message of having a happy, balanced life where you have people - and pets - around you who love you and support you," Ms Howard said.
"Promoting connectedness in society and mental health and wellbeing is something I am passionate about, and I am so pleased I am able to do that both as an R U OK? board member and as a partner at Holding Redlich," she said.
Helen Ayres, the firm's head of human resources, said that Holding Redlich was committed to providing its staff with opportunities to take a break, listen and connect with colleagues.
Occasions such as R U OK? Day provided some relief to the everyday stresses that build up at work, she added.
"There's no doubt the law can be a stressful profession – and that's why we need to consistently place a high level of focus on promoting wellbeing through practical, real-life policies and initiatives," Ms Ayres said.
"At Holding Redlich, we seek to live the message. Being on the lookout for the wellbeing of our colleagues and making meaningful connections is an important part of life at the firm and that's why we are eager to support initiatives such as R U OK Day?," she said
Similar morning tea events were held in the firm's Brisbane and Sydney offices to mark the day. Holding Redlich national managing partner Ian Robertson said wellbeing is be an important focus for the firm throughout the year.
"We have a range of services and policies on offer such as an Employee Assistance Program and our recently relaunched Flexible Working Arrangements Policy that provide an important support network for staff," he said.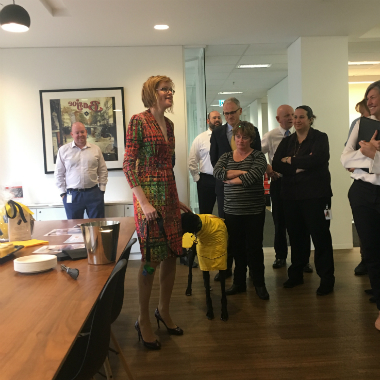 Tommy the greyhound was decked out in a perfectly appointed 'R U OK?' themed jacket for his visit to the Holding Redlich Melbourne office.