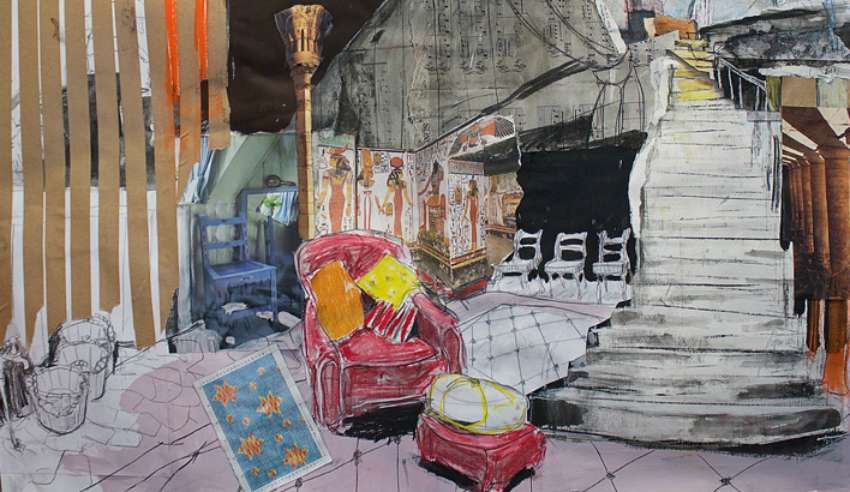 A two-week exhibition of works created by the 2017 Curwoods artist-in-residence Joanna Gambotto is opening today.
Artist Joanna Gambotto will be showcasing works in Australia Square from 14 November. Her suite of work, depicting a mix of representation and abstraction, were painted on-site at Curwoods Lawyers in Sydney over the past 12 months.
Ms Gambotto is the ninth artist to be hosted by Curwoods as part of its Artist in Residence program.
"At first it felt strange to be working in a studio within a law firm, however everyone at Curwoods has been so welcoming and it has been great to receive feedback on my work along the way," she said.
Curwoods partner John Snelgrove came up with idea of hosting an artist in the firm after toying with ideas about how best to use some vacant office space.
Scott Kennedy, the firm's managing partner, said that the initiative had become a highly sought-after opportunity for emerging young artists since it first launched in 2007.
"We are immensely proud of the calibre of the artists and the success they have enjoyed following their participation in the program," Mr Kennedy said.
Ms Gambatto, who graduated from the National Art School with a bachelor of fine arts in 2013, said the invitation to apply for the 2017 program was a big achievement. Being chosen to move into the law firm for the program was a special honour and added bonus, she said.
"To be selected was amazing recognition and provided me with an injection of self‑confidence."
"I'm grateful for the opportunity to have had my own space to create in," Ms Gambatto said.
According to a statement from the firm, Ms Gambatto has shown her art in a number of group exhibitions. She has also held several solo shows in Australia and abroad. Her previous work can be found in private and public collections worldwide.
"Each of her paintings begin as a cluster of spontaneously composed snippets of reality, often fragments of places visited in the past. The laborious process of adding paint, scraping and carving results in a sensuous surface, rich in texture, pattern and layers, and becomes a metaphor of how a place can be filled with emotions, memories and history."
Mr Kennedy congratulated Ms Gambatto on the exceptional selection of works she had completed during her residency.
"The opportunity to witness her creative process has inspired us to continue to take a different perspective," he said.