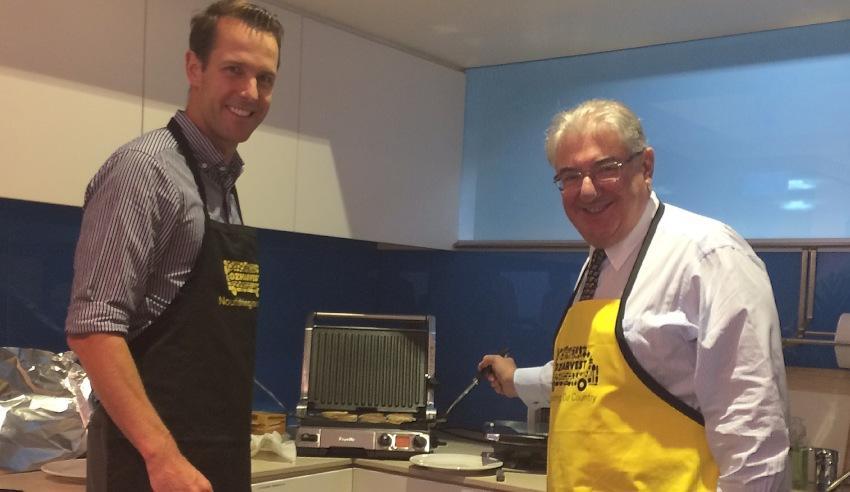 Two partners from an Australian law firm have put their cooking skills to the test by whipping up some piping hot pancakes to treat their staff and raise funds for OzHarvest.
This week Holding Redlich national managing partner Ian Robertson, along with property and real estate partner Cameron Sheather, donned their best aprons to cook up a morning tea of pancakes to mark Pancake Day, also known as Shrove Tuesday.
The head chefs were assisted by sous chefs and fellow Holding Redlich partners Breellen Warry, Stephen Trew and Helena Golovanoff.
The morning tea also raised funds for food charity group OzHarvest, which is dedicated to creating awareness about food security, homelessness and youth in crisis.
Together the five partners will further add to the cause by participating as a team in the upcoming OzHarvest CEO Cookoff, to be held on 19 March.
The event brings together the nation's top chefs, CEOs, managing directors, senior business leaders and staff from leading companies to help raise funds, according to a statement from Holding Redlich.
So far the firm has raised over $10,000, with a target set to hit $50,000 by the cookoff date.
Speaking about the cause, Mr Robertson said: "Holding Redlich is very proud to support OzHarvest in its efforts to assist some of the most vulnerable members of our community".
"They also do wonderful work in keeping good food out of landfill, redirecting it to more than 1,000 charities around Australia.
"The pancake morning tea was a fun way of getting everyone involved and is a great way of keeping up the fundraising momentum."