Vic Bar showcases new portraits and gallery refresh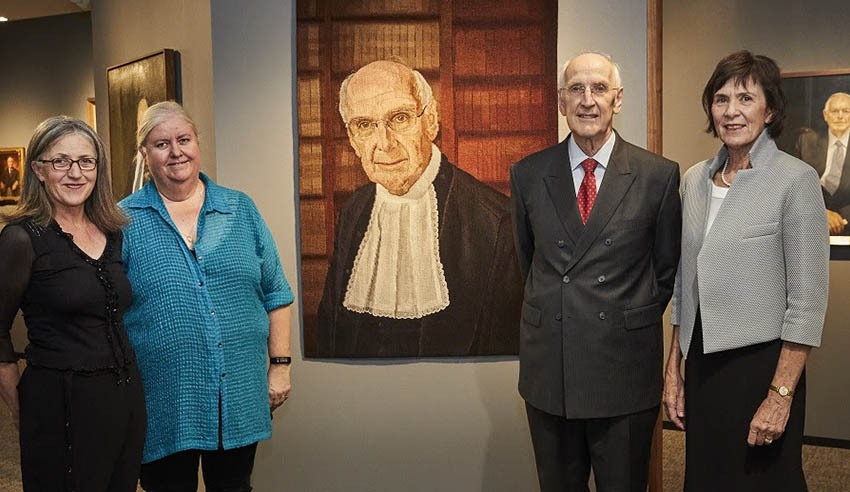 New portraits of some of Victoria's eminent judges and barristers have been unveiled by the High Court of Australia's Honourable Chief Justice Kiefel AC for the Victorian Bar.
The unveiling of the new artworks has occurred in conjunction with the re-design of the Peter O'Callaghan QC Gallery and the inauguration of the gallery's Hartog Berkeley QC room.
Artists including Louise Hearman, Polly Borland, David Rosetzky, Sally Ross and John Gollings AM, and Australian Tapestry workshop weavers Chris Cochius and Pamela Joyce are among those featured in the new portraiture collective.
The Victorian Bar's president, Dr Matt Collins QC, said "we're immensely proud of the portraits of eminent past and current members of the Victorian Bar".
"All have played a major role in the community in many ways, reflecting the leadership played by members of the Victorian Bar not just in upholding the rule of law and the administration of justice, but also in shaping modern Australia," he continued.
Nine judges and barristers have had their images captured in the unveiling, with portraits showcasing:
The Honourable Alex Chernov AC QC, former Victorian Governor, judge and Chancellor of the University of Melbourne, by David Rosetzky
The Honourable Michael Black AC QC, former chief justice of the Federal Court, by Louise Hearman
The Honourable Diana Bryant AO QC, former chief justice of the Family Court of Australia, by Sally Ross
The Honourable Ray Finkelstein AO QC, former judge of the Federal Court and president of the Australian Competition Tribunal, by Polly Borland
The Honourable Alec Southwell QC, former judge of the County Court and the Supreme Court – anonymous
Mr Jeffrey Sher QC, by Lianne Gough
Mr Alan Archibald QC, by John Gollings AM and the Australian Tapestry Workshop
Mr Robert Richter QC and Mr Philip Dunn QC, by Martin Tighe
The Honourable Kenneth Hayne AC QC, by Bill Henson
The Peter O'Callaghan gallery chair, Peter Jopling AM QC, commented that "some of the new portraits have already captured the attention of the arts world".
"The Alan Archibald QC portrait by John Gollings AM and the Australian Tapestry Workshop has been promised for loan to the National Portrait Gallery in Canberra," he noted.
"Commissioning portraiture in a variety of mediums is one of the goals of the gallery as we honour barristers and judges of great distinction and those members of our bar who became governors-general, governors, prime ministers and attorneys-general as well as significant civil leaders and philanthropists," Mr Jopling concluded.
Pictured (from L to R): Pamela Joyce, Chris Cochius, Alan Archibald QC and Mary-Lou Archibald.