Shine appoints 3 women to head of legal divisions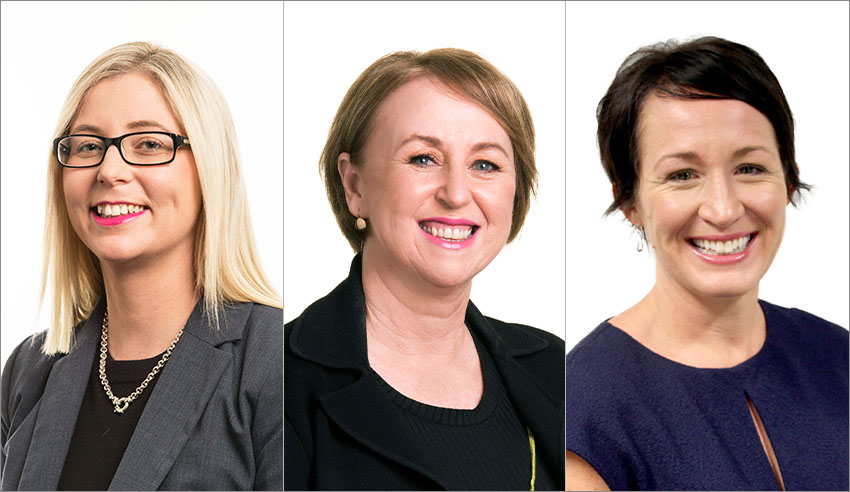 National personal injury firm Shine Lawyers has elevated three women to head up different legal divisions across its corporate arm.
Jacqui Eager will be the firm's new head of core personal injury, Jan Saddler is the new head of litigation and loss recovery and Lisa Flynn will be the head of specialist personal injury.
In a statement, firm COO Cath Evans said that the trio "[brings] a diverse range and depth of experience to the leadership team, [shares] a strong business growth mindset, and are united in their passion for delivering outstanding legal outcomes for our clients, often during the most challenging times of their lives".
Ms Eager, who has been a personal injury lawyer in both Queensland and NSW for 12 years, joining Shine just over two years ago after a stint as a principal at McInnes Wilson Lawyers, said there is "no better feeling in the world than using our skills as lawyers to help people feel heard and supported".
"We act for people who sustain both minor and catastrophic physical injuries as well as those who suffer psychological harm, which is a growing area. I feel privileged to be able to assist every day Australians as they face one of the toughest times of their life," she said.
"Our clients come to see us when they have reached rock bottom and seeing the relief on their face after they meet with us and know that we will look after them is second to none. Each day as I travel home I often think back to the stories I have heard that day and the people we have assisted.
"In my new role, I am overseeing the Shine businesses which practice in core personal injury. I am working closely with the general managers in each area and especially in Victoria, which is a new jurisdiction for me. Our ultimate goal across core personal injury is to achieve growth in market share across all states so that we can help more injured Australians access justice.
"Since joining Shine I have for the first time had some fantastic strong female role models. Cath Evans, group COO, and my fellow heads of legal colleagues, Lisa and Jan, inspire and support me in my position every day."
Ms Saddler – who boasts almost 30 years of experience as a solicitor both in Australia and the UK – said that class actions work "chose me".
"I love this work because we can get justice for so many people in one action and usually against a defendant who is usually a government agency or a large corporate business, against whom it is very difficult for plaintiffs to individually take action and succeed," she reflected.
"I'm not sure that there are any other professional services firms with over 750 employees that can say they have women heading as many divisions as we do at Shine. So, I suppose that does make Shine the market leader in promoting women to senior leadership roles.
"I have certainly observed the success of some amazing women throughout my career and I am grateful to them for showing me how to be an excellent lawyer and for teaching me a lot about how to juggle professional life and families and lots of things outside of work. However, the people who most inspire me are those who achieve great things without the benefits of good health, a quality education, and the support of a loving, encouraging family. Those people who have so little and are so up against it remind me of how lucky I am."
Ms Flynn, on the other hand, joined Shine as an articled clerk 20 years ago and previously served as the firm's head of abuse law.
Commenting on her new appointment, she said she has "always loved" being a plaintiff personal injury lawyer.
"I love standing up for people who have suffered injury and loss often through no fault of their own. They often don't have a voice against an insurance company or defendant who is much bigger and more powerful than they are," she mused.
"I hope that I can assist our specialised teams to deliver consistently excellent client outcomes for each and every one of our clients across our specialist personal injury areas. I really believe that our teams do deliver the best outcomes for clients that are tailored to the specific work types that we do.
"For example, in our abuse law team we engage with psychiatrists and psychologists regularly to ensure that we are trauma informed and ensuring that we always try to minimise re-traumatisation for the survivors and victims of abuse that we assist. In our medical law team, we consult with nurses at the very outset of our clients' claims to ensure that we understand every technical aspect of our clients' cases. Our superannuation team regularly meet with the insurance industry to minimise wait times for our clients.
"Part of my job is also ensuring that we continue to grow these niche practice areas which I am very proud to do as I really believe the results we deliver for clients is of an excellent standard."