Lawyers Weekly launches Boutique Law Summit 2020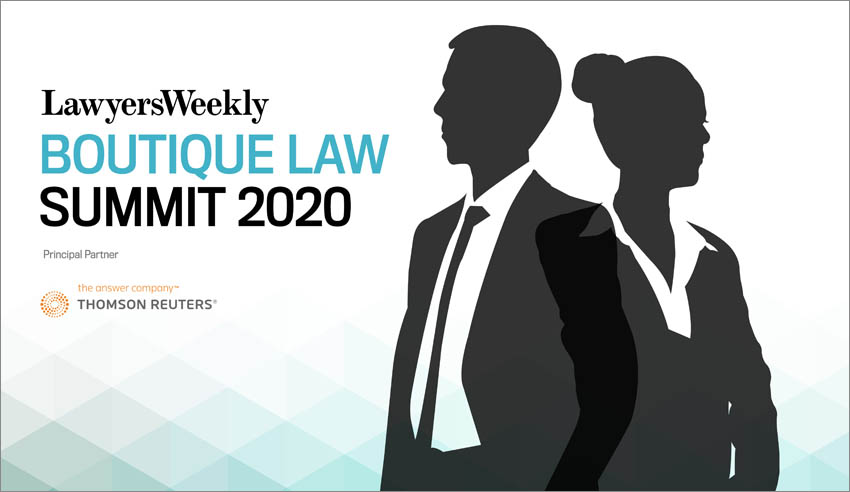 Lawyers Weekly, in partnership with Thomson Reuters, is pleased to announce that the Boutique Law Summit will be back in 2020.
The second annual Lawyers Weekly Boutique Law Summit will be held in Melbourne on 24 March and Sydney on 26 March 2020.
The one-day conference is jam-packed with inspiring and thought-provoking sessions, specifically geared towards boutique law firms and individual practitioners looking to bolster their way of working.
Attendees will walk away with case studies of what has worked and what hasn't worked from people who have thrived in the SME law space, practical tips to take home and implement into the business, and an increased contact book, with vast networking opportunities available on the day.
"Now in its second year, the Lawyers Weekly Boutique Law Summit is designed for those lawyers and legal teams looking to maximise their return on investment and adapt to a new way of working by utilising technology and digital tools to make their business run in a more effective and sustainable manner," said Lawyers Weekly editor Emma Ryan.
"We listened to the feedback provided by last year's attendees and have molded 2020's agenda to include sought-after sessions such as how to leverage AI, the secret to finding and retaining staff, and what you can do to market and build your brand's image.
"In addition, the day will feature more interactive sessions, such as a wellness panel and a very special Legal Ethics Game Show, designed to get attendees off their seats and collaborate amongst one another."
To view the full agenda, click here.
To purchase tickets, click here.