Agenda revealed for Boutique Law Summit 2020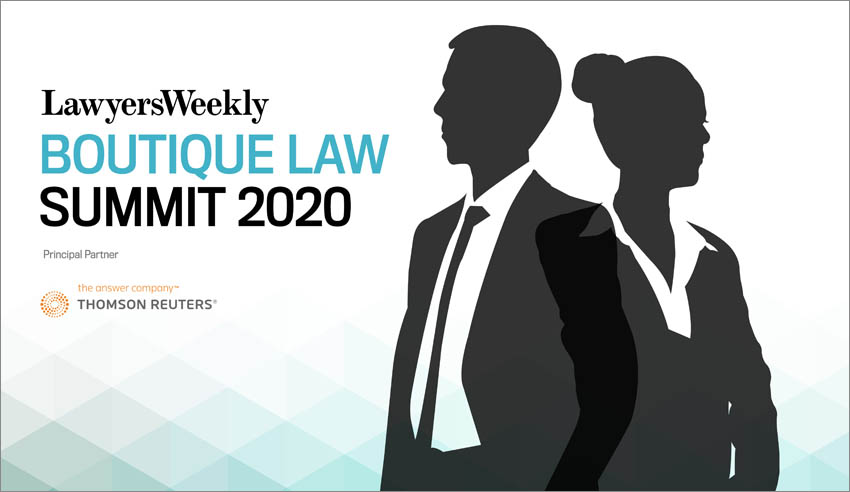 Lawyers Weekly, in partnership with Thomson Reuters, is pleased to announce that the agenda for next year's Boutique Law Summit has been revealed, packed with practical and educational sessions set to transform your firm.
Back for its second year, the Lawyers Weekly Boutique Law Summit is coming to Melbourne and Sydney on 24 March and 26 March, respectively, with a jam-packed agenda set to provide attendees with the latest on how to bolster their way of doing business.
Kicking off the summit will be a special keynote on the future of law and legal services, offering attendees pivotal insight on what to expect over the coming years, and how they can capitalise on new entrants coming to market.
Next up will be a session delivered by Thomson Reuters, which will provide attendees with knowledge on trusted legal products and services that combine unparalleled content, deep human expertise, and intuitive technology to get you and your business the timely answers you need.
After some time for networking and refreshments, the summit will switch gears to talk all about people: how to find great staff, retain that great staff, and foster a culture of collaboration set to ensure transparency is evident across the board.
Keeping in touch with the human element, the summit will then move on to a Wellness Panel, which will provide attendees with take-home tips on how to identify triggers and better management procedures, as well as how to build trust and a support network within your team.
The summit will then break for more networking and lunch before coming back to another panel: "Changing the Game". This panel will dig deep into financial planning and pricings, featuring insight from industry thought leaders who will share the strategies that worked for them – and the ones that didn't.
Moving on, the next session will delve into cyber security, giving attendees an overview of how they can better protect themselves from the ever-growing and increasingly smarter cyber criminals.
The summit will then break again for one last networking session, and afternoon tea, before closing out the day with an interactive and practical "Legal Ethics Game Show", hosted by former lawyer and founding member of The Chaser, Julian Morrow – all while earning one CPD point.
"Now in its second year, the Lawyers Weekly Boutique Law Summit is designed for those lawyers and legal teams looking to maximise their return on investment and adapt to a new way of working by utilising technology and digital tools to make their business run in a more effective and sustainable manner," said Lawyers Weekly editor Emma Ryan.
"We listened to the feedback provided by last year's attendees and have molded 2020's agenda to include sought-after sessions such as how to leverage AI, the secret to finding and retaining staff, and what you can do to market and build your brand's image.
"In addition, the day will feature more interactive sessions, such as a wellness panel and a very special Legal Ethics Game Show, designed to get attendees off their seats and collaborate among one another."
To view the agenda, click here.
To purchase tickets, click here.