Laughter needed for better creative thinking in law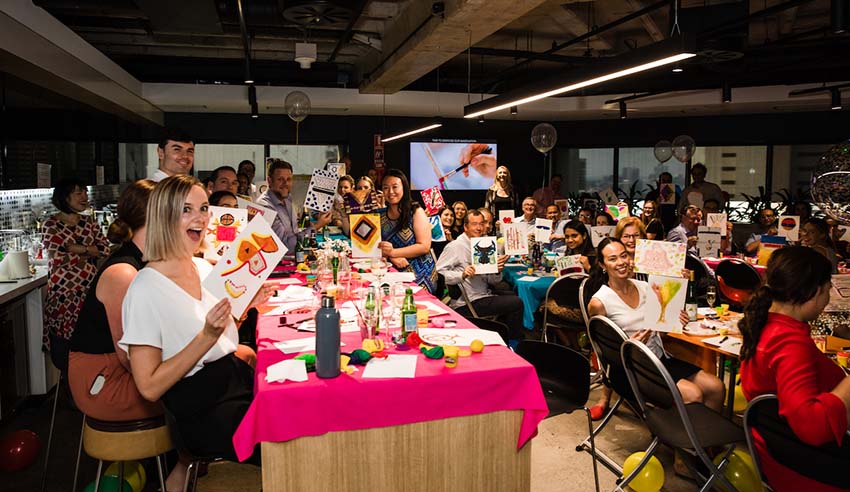 Identifying and solving problems are best undertaken with a creative, relaxed and happy mindset, as McCabe Curwood practitioners learned at a recent in-house event.
Last week, McCabes hosted a "Leading with Laughter" event for its lawyers, featuring scientist and neuro-leadership expert Silvia Damiano.
During the event, Ms Damiano encouraged staff to implement various tactics to improve creativity including the use of mindfulness, humor and laughter, and simply taking time out to do something creative and apply themselves to different types of work.
To set the three tactics outlined by Ms Damiano in motion, staff took part in light-hearted activities which included painting a brief and a mindfulness exercise. A comedian also took over the event for half an hour with a mini-gig, with a dinner concluding the evening.
McCabes managing principal Andrew Lacey said that creativity is a "vital skill" in business, and it is crucial – through such events – to encourage a new way of thinking and problem-solving.
"Silvia Damiano is a brilliant presenter and leader in the field of neuroleadership, I am thrilled that we were able to present her techniques to the broader firm," he said.
"We are encouraging an environment where individuals are able to be the best versions of themselves and are also able to grow into leadership positions within the firm. We want leaders who are courageous and are able to take responsibility for building a career and the worklife that they want."
"To be able to achieve this we need creative thinkers and creative thinking skills are just like any other skill – they need to be practiced," Mr Lacey continued.
McCabes head of knowledge management Natalie Rubinstein added: "No one really gives people the evidence as to why mindfulness and taking time for yourself [are] so important and what [these] can do for a person professionally and personally. And the fact that we were able to go through all that, people were able to join those dots.
"It's also hard to work creatively when we're sitting in an environment which can often be very high pressured, it can be quite stressful, and we're bogged down in very granular tasks. We felt that it was really important for people to realise that, and to work out how to be able to tap into their creativity.
"It was really fun.
"I had principals that were staying for five minutes stay for two hours. I've had dozens of people come up to me saying how grateful they were that they were given opportunities like that. It was really successful."