Boutique Law Summit right around the corner!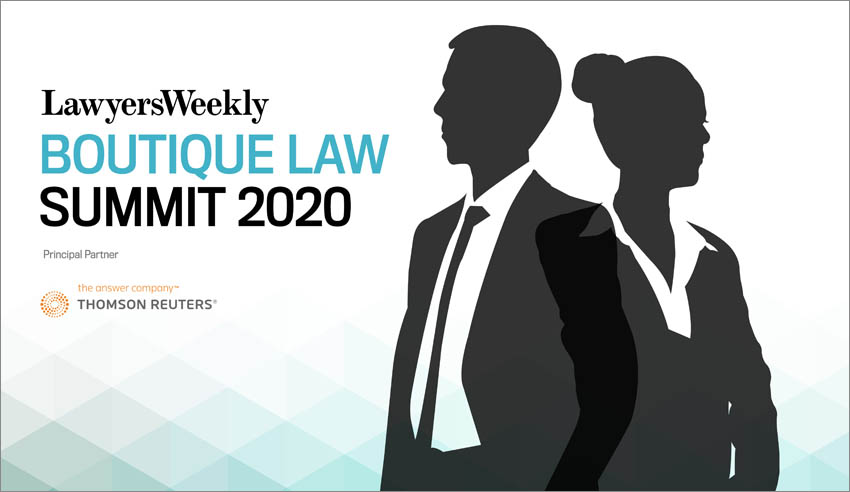 The second annual Boutique Law Summit – brought to you by Lawyers Weekly and Thomson Reuters – is fast approaching, with events being hosted in both Sydney and Melbourne.
Following the success of the inaugural Boutique Law Summit, Lawyers Weekly – together with principal partner Thomson Reuters – is thrilled to again present one-day events in Australia's two biggest cities catered specifically to sole practitioners and professionals in boutique legal practices.
The 2020 summit has been specifically designed to respond to the needs of those leading and working in boutique law firms with a treasure trove of take-home, practical strategies, tips and tools on business and profile building to have a positive impact on your business's growth and future.
Insights offered from the stage promise to be as varied as they are valuable, with sessions including a panel on wellness; a panel on how to set your business apart in a rapidly evolving legal marketplace; and keynote addresses on performance optimisation, technological advancements for boutique leaders and what the future holds for the SME sector of the legal profession.  
To finish the day, The Chaser's Julian Morrow will host a game show-style session on legal ethics, inspired by his new venture, CPD Under the Influence.
"The Boutique Law Summit comes at a pivotal time for the legal profession," said Lawyers Weekly editor Emma Ryan.
"There has been much disruption in recent years, with the Boutique Law Summit offering a way for lawyers to upskill themselves, take advantage of the opportunities on offer and bolster their business for a new era.
"A big thank-you to Thomson Reuters, who have partnered with us again to bring this insightful event to life."
Six CPD points are on offer for attendees.
To learn more and purchase your early bird ticket, click here.