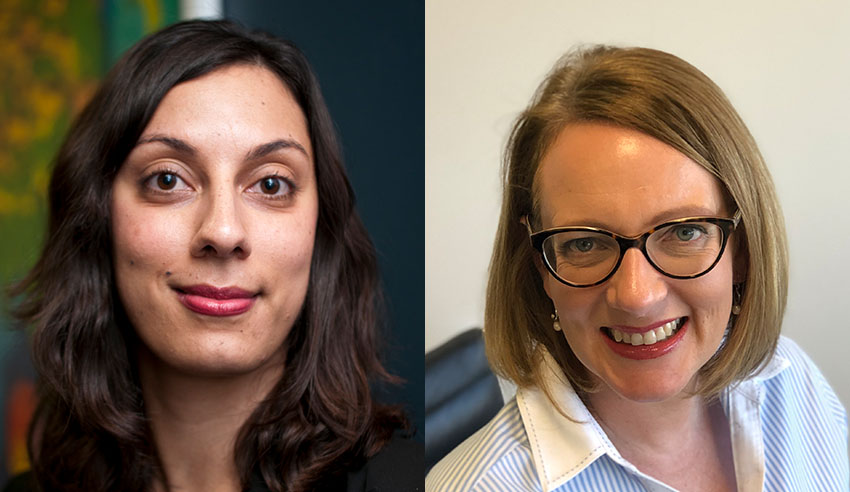 At a time where economic and professional uncertainty is coupled with social isolation, engagement with trusted advisers is fundamental for lawyers.
Whilst warning signs were there for governments, the global coronavirus pandemic largely crept up on working professionals. There was little time, McLaughlins Lawyers associate director Joelene Nel mused, for lawyers to make arrangements to transition into a work from home life – physically and emotionally.
"The isolation and separation from family, community and work colleagues [were] thrust upon us by this pandemic. The pressures of managing the sudden change, ongoing family commitments, work demands as well our own self-care [have] left many people feeling exhausted, stressed and overwhelmed," she said.
"Whilst mentoring (in a work capacity) often focuses largely on the work itself, it often also encompasses how to deal with other issues in life. Lawyers who have an existing mentoring relationship with a person, or group of people, can use that as a way to navigate both work, and other changes they may be facing during this time."
Rothstein Lawyers principal Sophie Manera – who won last year's Mentor of the Year category at the Women in Law Awards – agreed, saying that with so much uncertainty emerging from the breakneck speed of change in the profession right now, continuing mentoring relationships will assist lawyers navigate the turbulence.
"Lawyers need mentoring to help them understand that they perform an important role in their workplace and in society, and that they are valued as a person and as an employee," she said.
Why mentoring is needed in this time
This is likely, Ms Manera noted, the first global economic crisis that junior lawyers have experienced.
"More experienced lawyers may be able to share their experience of adapting to change. With the benefit of effective and meaningful mentoring, lawyers will develop resilience and self-care skills, which will assist in both their professional and personal lives," she explained.
For Ms Nel, lawyers need to be engaging with mentors at this juncture as a forced reminder that they are not alone.
"It is okay to feel worried and anxious during this time. It won't stay like this forever. As trite as those comments might sound, when they are echoed back by a mentor they will often be received with trust and comfort. This helps support the wellbeing of the mentee during this time," she said.
"On a professional level, a mentor can continue to share knowledge and experience about client management [ dealing with difficult clients during this time can be even trickier], legal practise and how they are facing new ways of doing work given the current limitations. The sense of knowing you are not facing this alone can be hugely uplifting and provide the impetus to continue with what needs to be done, both personally and professionally."
What mentors must do
In order to best support their mentees, mentors like Ms Manera must remember that communication is "key" moving forward.
"Don't underestimate how confused and vulnerable your colleagues may feel. Reach out to colleagues and share your tips for mental healthcare, or offer a kind word to brighten their day," she advised.
"For those in management, provide regular and clear updates on the firm's COVID-19 plan, as this will alleviate your colleagues' stress."
Very often in a mentoring relationship, Ms Nel added, what a mentee values most is "a listening ear, a sounding board and trusted guidance".
"Mentees seldom expect the mentor to have all the answers or a quick fix to their problem or a magic wand to wave. Providing the space for that conversation is something that mentors can continue to provide. Mentors can also share their experience about what has [or has not worked] for them when making changes during this time," she said.
"Reach out to your mentor and arrange a Zoom chat or call; be part of Facebook groups or other online communities in law; contact your local law society or district law association to see what support that can provide."
How mentees can approach the situation
It will also be necessary, the pair continued, for mentees to understand how best to navigate a mentoring relationship during the pandemic.
Mentees should be mindful, Ms Nel said, of when and how to contact their mentor be it phone or email, and what times of the day may work best.
"Especially as the lines between work and home life are more blurred than ever, mentees should be more mindful of other commitments their mentor may have and suggest a catch-up at a mutually suitable time," she noted.
"It is seldom helpful to call a mentor for a vent about your day at 5pm when they may be trying to finish work or manage children."
Ms Manera: "Video and telephone communication work nearly as well as face-to-face communication. Reach out to a mentor for a chat, or find one via your workplace or a professional organisation. In these times of social isolation, any friendly approach will be well received."
Looking ahead
It's easy to feel alone and stressed in these unusual times, Ms Manera concluded.
"Remember that this pandemic affects everyone, and talking to someone about your concerns will help," she said.
Ms Nel agreed: "As we should always remember 'without the rain there would be no rainbow', now is the perfect time for a mentee to offer insight about some of their skills and practises that the mentor may be able to use."
"Particularly if the mentee is confident with using technology and has IT skills that the mentor may not have, now may be the time to 'repay the favour' with some reciprocal mentoring," she said.
To share how COVID-19 has impacted you and your business, please complete this anonymous, two-minute survey here. For more information, please contact This email address is being protected from spambots. You need JavaScript enabled to view it.