MDW family lawyers promoted to key positions in Melbourne office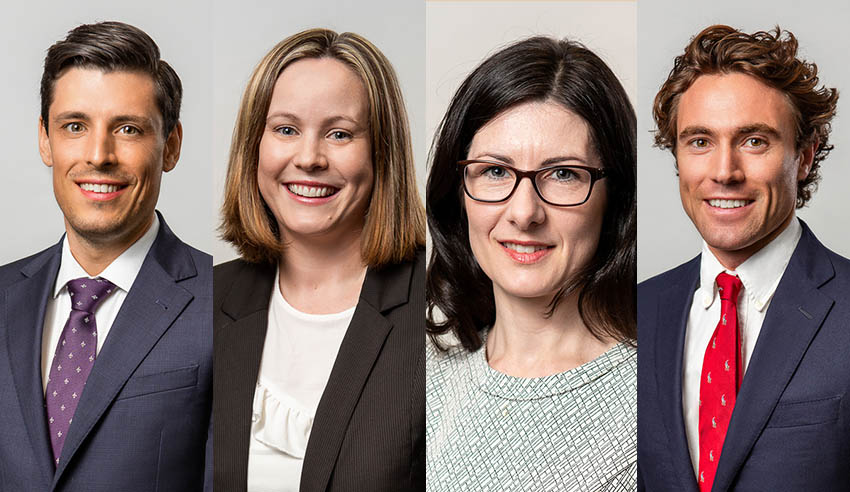 Four family lawyers will take on new roles at marshalls+dent+wilmoth lawyers' family law practice for the start of the new financial year.
Nick Ellis has been promoted to principal, Kate Whitehouse and Philippa Darlow have been promoted to special counsel and Nick McBride has been promoted to senior associate.
These four lawyers demonstrate the firm's commitment to legal excellence and dedication to outstanding and professional client service.
"We are delighted to announce these promotions which cement our firm's [longstanding] reputation for excellence in family law and delivering wonderful outcomes for clients," principals John McBride and Margaret Neal said.
"These promotions strengthen the foundation for the family law team's continued growth and success. Congratulations to Nick, Kate, Philippa and Nick for their well-deserved promotions."
Over eight years in practice and six years with the firm, Mr Ellis has become an essential member of the MDW family law team. 
He practices in all family law areas, with a particular interest in complex financial and cross-border disputes.  
Mr Ellis is an accredited family law specialist and he sits on the family law executive and accredited specialist (family law) committees of the Law Institute of Victoria.
Ms Whitehouse's promotion celebrates her comprehensive knowledge in family law according to the firm.
Ms Whitehouse was formerly a legal associate to the Honourable Justice Peter Young QC and the Honourable Justice Paul Cronin of the Family Court of Australia. 
She was admitted to practice in 2010 and has practiced exclusively in family law since that time, joining MDW in 2013. Ms Whitehouse is also an accredited family law specialist.
Ms Darlow has contributed a wealth of diverse skills and experience to the family law team at MDW.
Her experience has ranged from working at a Women's Legal Service in the Northern Territory to a top-tier family law firm in Sydney, reflective of her broad interests and expertise across the field of family law.   
After her admission to practice in 2004, Ms Darlow spent approximately 10 years working at another well-known Melbourne-based family law firm.   
She has been accredited by the Law Institute of Victoria as a specialist in family law since 2009.
Since joining MDW in 2014, Mr McBride has established himself as an invaluable member of the family law team according to MDW.
During his time working at the firm, Mr McBride has earned a master of laws (family law) and has developed a reputation as a hard-working family lawyer with an impressive commitment to client service.  
He sits on the Junior Family Lawyers Working Group, a subgroup of the Family Law Executive of the Law Institute of Victoria.