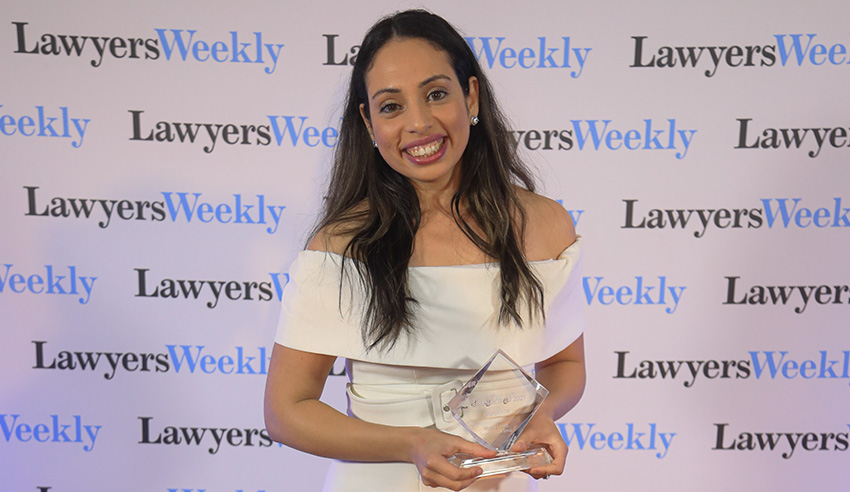 Having a family and her own law firm has taught this young founder a lot of lessons along the way.
Marial Lewis, founder and principal of Crossover Law Group and winner of the Migration Law category at 2021 30 Under 30 awards, said that balancing a young family and an important workload isn't always easy. 
Speaking on The Boutique Lawyer Show, Ms Lewis reflected on getting to partner at age 25, opening her own firm, and what she's learnt balancing a family and immigration clients.  
Whilst Ms Lewis wasn't originally interested in immigration law, English is her third language after migrating to Australia with her family, and said she "ended up really liking immigration law as an area of law". 
She added that when working in immigration law, clients are more than just another file. 
"When you see a client saying thank you so much, you actually know the impact your advice and representation has," she said. 
Before starting her own firm this year, Ms Lewis made partner at 25, whilst working at boutique migration law firm Teleo Immigration Specialists – and said the move came from being proactive and learning on the go. 
"It's not like a traditional mid-tier or a big firm, where there is a pathway to partnership. I'm very proactive. I like businesses. I like ideas. I like more than just running a file. I liked the business aspect to it, the development, building the relationship with the clients, all those things," she said. 
"It took me a while. But in the meantime, I was doing practise management courses, getting my unrestricted practising certificate, learning about marketing, doing business development. So, I was always educating myself. And then we made it official at the end of 2018.
"Since I made partner, I've grown so much and learnt so much. I think I definitely had the benefit of learning that with the assistance of someone else there."
Ms Lewis used the variety of skills she learnt being a partner to open Crossover Law Group in April and said that it was the right time for a number of reasons. 
"Traditionally you spend hours and hours in the office in order to be successful. It doesn't have to be that way anymore. There are smarter ways of doing things. Clients want to work in different ways than before. You set your own goals," she said. 
"Currently, it's just myself. So, I have to rely on technology and booking systems and things to make my practise work, while also being a wife and a mother and everything else and without the admin support that maybe I had in my previous firm or other people have in their firms.
"Even though it's all very innovative and I think everyone can benefit from it, it's actually a lot easier to implement it from the start, and it becomes a necessity. So, working from home and doing online meetings, it's something that COVID helps us to agree with."
In addition to work, Ms Lewis has a baby and husband at home and said that the balancing act is "not always easy, but it's doable". 
"I''s also doable based on the people around you. I have an amazing husband. I have an amazing family who is supporting me so much," she said.
"It's a work in progress. It's learning. I can't say I'm an expert in this stuff. I've only been running my practise for a few months now. Again, my baby is still under one year old. But I think the main thing is to know your priorities.
"This is also why I established, to make sure it runs and fits well with the lifestyle I want rather than the other way around. So, my priority is my family, but at the same time, knowing I have a good practise and make sure I'm there for my clients, especially with COVID and migration law issues."
And she's learnt, above all, to be kind to yourself along the way. 
"You can't do it all. I guess as lawyers, we're trying to be perfectionist in everything we do, but sometimes it's okay," she said. 
"It's okay if you're tired. It's okay if you have not had a good night's sleep. It's normal."
And despite not being able to do it all, Ms Lewis added that if you are thinking about going out on your own, now is the time. 
"A lot of lawyers are going out on their own, because it's doable now compared to before. I'm not the only one my age really who went out on their own and is doing well," she said. 
"They're doing really well setting their own goals and their own standards. It's definitely doable having a family and being a successful lawyer."
The transcript of this podcast episode was slightly edited for publishing purposes. To listen to the full conversation with Marial Lewis, click below: