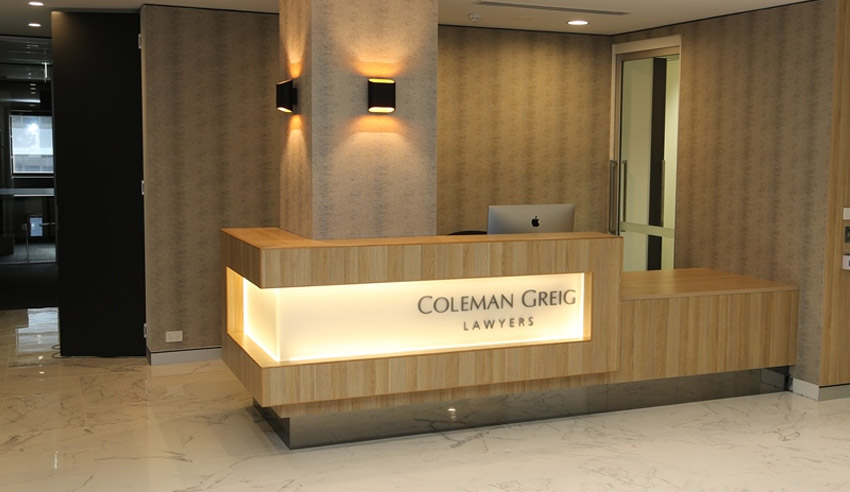 The chief executive of NSW-based mid-tier firm Coleman Greig Lawyers – which has five offices across the state – has resigned his position.
The board of directors at Coleman Greig Lawyers has accepted the resignation of its chief executive Warrick McLean, who will step down on 31 May 2022. 
Andrea Galloway, an experienced CEO and non-executive director, will become acting chief executive upon Mr McLean's departure. A search for a permanent CEO is set to get underway shortly.
Speaking about his departure, Mr McLean said: "I want to thank everyone who helped make Coleman Greig Lawyers the leading law firm in Western Sydney over the past nine decades.
"It's been an honour to work with our shareholders, board, brilliant team and our external stakeholders over the past 16 years.
"I realise that all corporate journeys must come to an end, and wish Andrea and the team every success as they continue to evolve the business with that sense of infectious confidence that is unique to Coleman Greig Lawyers."
Ms Galloway added: "I look forward to working closely with our board of directors, executive team and all our employees to achieve Coleman Greig's strategic goals.
"Since joining the board in 2018 I have been acutely aware of all facets of the business and have huge confidence in Coleman Greig's future."
Caroline Hutchinson, who leads its litigation team, is remaining in her role as board chair.
"The board and shareholders are delighted to have Andrea step into the role as acting CEO. She is ideally suited to the acting CEO role," she said.
Coleman Greig has offices in Sydney's central business district, Parramatta, Norwest Baulkham Hills, Penrith and Campbelltown-Macarthur. The firm has been in operation for more than 90 years.