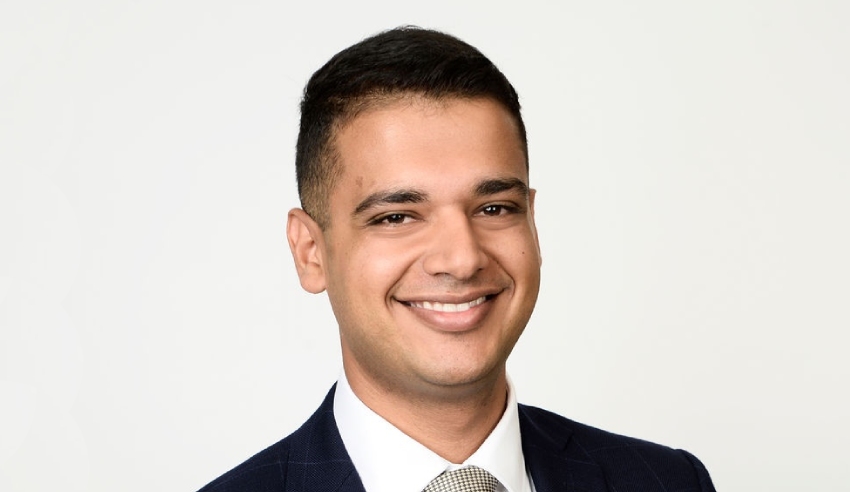 The keys to industry success, says one award-winning senior associate, are flexibility in one's approach and an outstanding support system.
For a lawyer celebrated as coming first in NSW and the ACT, and second in the nation in advanced insolvency, as well as the insolvency category winner at the 2021 Lawyers Weekly 30 Under 30 Awards, there is one accolade that stands tall as the professional pinnacle in Bishoy Genday's mind.
"It's been such an incredible honour to be named Senior Associate of the Year at the Australian Law Awards," Mr Genday (pictured) said. 
"This award is on an entirely different scale. To achieve national recognition when up against so many talented lawyers practising in all areas of the law and coming from incredible firms is the highlight of my career to date."
More than anything, Mr Genday views the award as a testament to the amazing team he works with daily. An integral part at the Sydney office of the 130-year-old law firm Cornwalls since its opening three years ago, Bishoy and the team recognised the need for consistency in order to leave their mark in the NSW capital. They were just that, consistent, and validation from the Australian Law awards soon followed.
"Having the industry objectively commend us is an incredible leap forward in achieving that goal and so I'm just as proud that our team were finalists in nine categories at the awards as I am of my own win," Mr Genday affirmed.
Mr Genday noted the award's ability to validate him and his team not only internally but also externally among their current clients.
"The feedback we've had from our clients and peers has been overwhelmingly supportive and we had to take the opportunity to thank the loyal clients and referrers we work with closely for trusting us with their matters and helping us gain that recognition," he said.
The absolute key to Mr Genday's success at the Australian Law Awards, and indeed the key to his high performance during the crazy, pandemic-impacted period, has been an incredible, flexible support network that has allowed him to mould his career to match the constantly changing state of both the professional world and his personal life.
"I'm really proud of my achievements and am lucky to have had the opportunity to act in some excellent litigation. But while it would be great to sit here and talk about how fantastic I am, I think the critical factor to my success has been an environment of support and flexibility," he said.
"A lot of young lawyers devote nearly all their energy to excelling in the law, often at the cost of personal relationships and mental health," Mr Genday remarked.
"No one's had an easy time in the past couple of years and firms have, on the whole, become much better at responding to the individual needs of team members and offering the right support to facilitate efficient work."
Continuing, he said: "My own challenges included having a newborn right at the start of the pandemic and all the mental (and physical) strain that came with that. As an aside I'm answering these questions now with a one-week old sleeping on me. My whole career I had always fit into 'normal' working conditions. That was turned on its head."
"I'm really grateful to be surrounded by fantastic leadership whom I could speak to candidly, who took an interest in my experiences, and trusted me enough to offer whatever support I needed," he said, continuing that "this meant I was able to manage our matters effectively, continue my studies and mentorship by highly recognised colleagues without sacrificing the time I needed with my family".
"I can only add my voice to countless others highlighting the need for flexibility in the legal industry and I hope I can be an example of what someone can do with the right support."
As for any advice he would offer to anyone compiling a submission for this year's Australian Law Awards, Mr Genday reminded them that professional recognition is a by-product of successful work, and that in order to be recognised as an industry leader, one must refine and develop their skills and practices to match those of the high performers.
He concluded by encouraging lawyers to think about their standing in society, as that is perhaps the most important aspect of their profession, stating: "I think more important is a mindful approach to practice considering our role as lawyers as members of a team and in the community at large.
"We try to encourage this kind of buy-in by making sure the entire team has a say in how our firm is run, how we represent ourselves to the market, and the initiatives we develop.
"Everyone has a unique perspective and skillset, so we find this approach really valuable, especially in a relatively small team. I personally consider this culture to be a significant factor to my own successes."