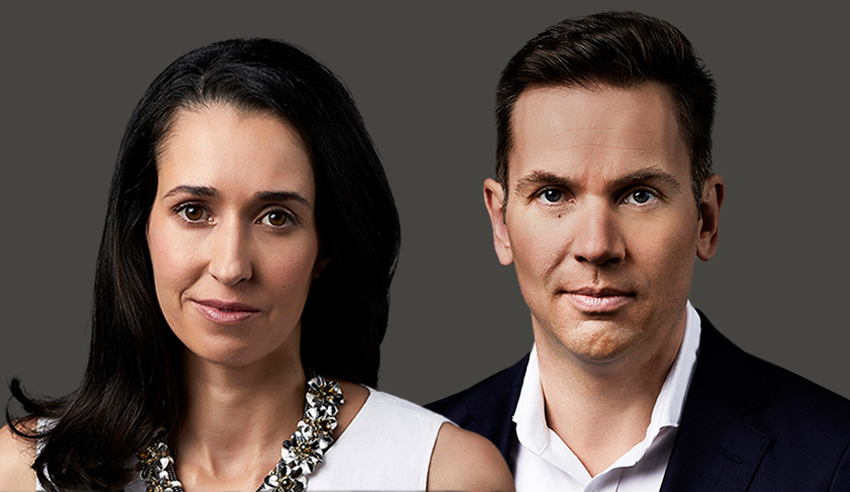 Post-pandemic, a number of things have led to this boutique's continued success across the country – resilience and excellent team culture being key.
Annabel Griffin is the chief executive of Hazelbrook Legal and winner of the Executive of the Year category at last year's Women in Law Awards, and Hugh Griffin is the managing partner at the same firm. Speaking recently on The Boutique Lawyer Show, the married pair, who have been nominated for numerous other Lawyers Weekly awards, revealed that whilst they work extremely well together, there are still a number of challenges on the horizon for the firm.
Whilst Hazelbrook has been growing "continuously" for eight years, the firm only plans to continue growing – which is a challenge in itself, Mr Griffin said.
"Part of the challenge is we created an amazing business and an amazing culture. And we have to maintain that or continue to grow. And part of growth is change and change is difficult, but I see that as a challenge. Clearly, the post-COVID environment is challenging. Everything has been a very hard couple of years for everyone for a range of different reasons, and that's throwing up challenges. Clearly, there's a lot of work on and clients are active and you can see that across the industry," he explained.
"So, that's great, but I believe there's still a lot of uncertainty in the remainder of this year and in the short term as well, but I think that's when deep relationships and quality of product stand you in good stead. And we see that even with the Great Resignation. There is pressure on staffing, very strong pressure, but we have been able to successfully recruit because of what we offer in terms of culture and the quality of work that we do, which is genuinely top-tier work for top-tier clients."
However, with growth comes extra recruitment, which Ms Griffin said presented exciting opportunities for the firm.
"Everyone sees the Great Resignation as something that's challenging, but we also see it as an opportunity for people who are reassessing the sort of workplace that they want to be part of. And we do offer genuinely supportive, but also high-performing culture. And that has been an opportunity for us to recruit some really exceptional talent. For us being Canberra-based, there's a huge focus on Canberra at the moment.
"Everyone's eyes seemed to be turned to this market, so that's a huge opportunity for us because we're established here and we have very deep relationships. So that's playing out in really interesting ways, as well as the fact that we've grown now into Sydney. And because of what we offer in our expertise, particularly around financial services funds, that's a highly sought-after area at the moment, and we're seeing a huge amount of growth there. And that's very exciting as well," she said.
"Canberra has always had a thriving private sector and those who have grown up here have known that there's some really incredible success stories to come out of here. But most recently, it's really been driven by the increase in budget in areas such as defence. There's always a lot of activity around that space, but most recently because of the deteriorating geopolitical environment, defence has been given a huge boost, and therefore anyone working the supply chain of defence are all benefiting from that and also the desire to build sovereign capability. So that's really one of the big drivers of why a lot of businesses, particularly private equity, venture capital, they're all very interested in the Canberra market."
In terms of continuing to grow – both in the Canberra market and in the firm's Sydney office – Hazelbrook will be focusing on actions, rather than words, according to Mr Griffin.
"I think the thing that frustrates a lot of people in industry is that all of the firms espouse really positive values in the way that they do things in terms of diversity, and all those sorts of things, but it's often the walk doesn't match the talk, and we have been so focused on that. We are deeds, not words. So, it is clear in our track record, the way that we're established, the way that we look after our staff, the way that we engage with our clients," he said.
"How our culture is, it is manifested. And I always believe that your internal culture clearly is a problem for your staff, but it does manifest to your clients. You can't contain it. And if there's a problem there, it will show. So, we're very focused on that. And if you look at our makeup, we've put on an incredible partner, Lucy Adamson, in the Sydney office, who joined us from Gilbert + Tobin. We have amazing gender diversity at the senior levels with Annabel's female CEO, and now, Lucy as a female partner, and that is a critical factor in our success."
For Hazelbrook, focusing on "deeds, not words" is an important part of challenging larger firms for clients and complex matters, as well as discipline and teamwork.
"We have values and we have commitments that we've come up with collectively. And it's about being very disciplined, reinforcing those in any ways we can, so we've come up with lots of different initiatives to ensure that the staff live and breathe them. And part of that as well is bringing people along with the strategy, so we have regular strategy sessions. Everyone's involved in those because you really need to have that buy-in. Everyone has to be on the same page and be driving towards that end goal," Ms Griffin added.
"Some lessons or advice for people wanting to go out on their own or start a new business is be kind to yourself. Don't be too hard on yourself and seek out people who fill your cup in that sort of sense of when you meet with them, they're giving you the energy to go on. And people who will genuinely support you, and in particular, people who've been through it before. It's like having a child. If you haven't had a child, you really don't know what it's like. It's the same goes for business. If someone hasn't started a business, they really won't know what you're going through, so you find people who've done it before."
Similarly, Mr Griffin said that the firm's success has a lot to do with resilience, as well as having a strong support network and team.
"I think it's all about resilience. You need to be a very resilient person to be a business owner. The buck stops with you at all times, and it's relentless. You can't just resign and go do another job because it's your business. So, it's also extremely rewarding. So, you get both, but you need the support team around you and whatever shape that takes if it was mentors or family or friends to help support you and maintain that resilience. That's really important. You have to be mature and able to conduct yourself in a mature way. And we expect our staff to behave like adults, and that's critical as well," he added.
"We're all under stress and what you see go wrong in businesses from time to time, and this is large and small, is that when people are under stress, their behaviour deteriorates and they start to behave in a way that's unacceptable. And that's not tolerated here, and we don't allow ourselves to do it. We don't allow anyone else to do it. And if you demonstrate that from the top, then it feeds down into the culture and everyone else accepts that outbursts of rage or whatever are not acceptable no matter how much pressure is on."
The transcript of this podcast episode was slightly edited for publishing purposes. To listen to the full conversation with Annabel and Hugh Griffin, click below: