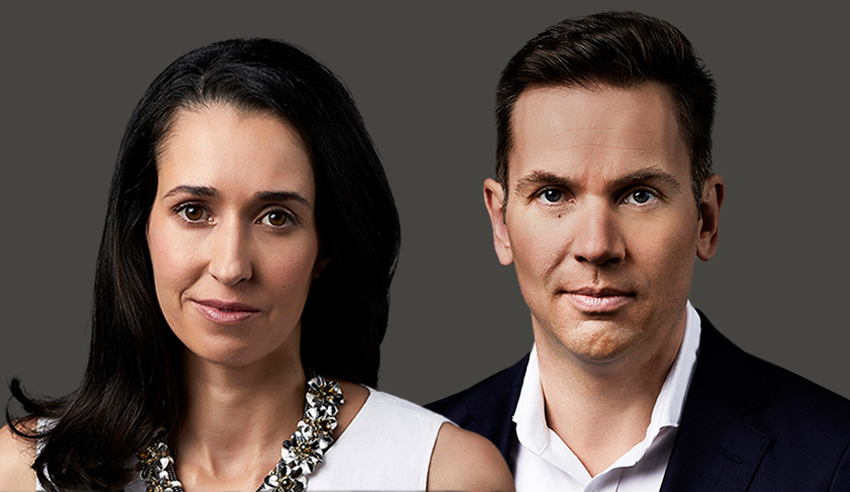 When establishing a new firm, finding partners and employees with complementary skill sets is an important aspect of the hiring process, according to these firm leaders. 
Annabel Griffin is the chief executive of Hazelbrook Legal and winner of the Executive of the Year category at last year's Women in Law Awards. Hugh Griffin is the managing partner at the same firm. Speaking recently on The Boutique Lawyer Show, the married pair, who have been nominated for numerous other Lawyers Weekly awards, revealed why running a business together works so well and how it all began. 
Ms Griffin started her career in banking and consulting – before starting Hazelbrook Legal with her husband in Canberra. 
"We both have sort of family business backgrounds, both families have created very successful businesses in Canberra, and I think that's where I developed my passion to run my own business," she said.
"In terms of how we met, and it's always a very interesting talking point, the fact that we're married and we run a business together because people always want to know what's that like, and is it challenging, but I guess I feel very fortunate that we have such a great working relationship, and I think it's because we don't overlap in terms of responsibilities. We're very complementary because I'm not a lawyer, and I think that's why it works so well."
Mr Griffin started his career at Clayton Utz and has worked at a number of BigLaw firms since – which he said has influenced strategy decisions at Hazelbrook in terms of competing for larger matters. 
"I think one of the things that motivated me as well, apart from having the sort of small business background, a family background, was trying to bring the things that top-tier firms do amazingly well in terms of client servicing and complex work, very clever people, but bringing that into a boutique. And that's one of the things we've tried to do, but we've also tried to do some different things as well," he explained. 
"We married in 2010, so 12 years. And I think we do have a very good working relationship, but I think we are good at managing projects together. And I guess we worked that out even when we were engaged and we were planning our wedding, which was overseas in Queenstown, but that was a project that we worked on together, and we're able to do it very well. So, we see marriage as one of the things. It's managing multiple projects, including raising children, but other things. But this business for us is one of our other projects that we are able to do well together."
The pair both gave up careers to start Hazelbrook – but neither has regretted the decision, as their skill sets complement each other so well. 
"We were in very good careers before this, but I guess, we didn't even think twice about it. The fact that we were risky or we just knew we wanted to do it. We definitely had support from our families in terms of what to expect, and that was very critical," Ms Griffin said. 
"Sometimes there are very challenging times, especially in those early years, and sometimes it feels like you're just kind of holding each other up in like a triangle position and you have to be a very strong support to one another because sometimes one of you is having a really difficult time, the other person has to lift them up. You can't both be down at the same time. That's how I've found it, but definitely having family to talk to about their experiences has been so important to know that they've been through it as well."
"Our family supports were supportive and encouraging because I think being a business owner is incredibly rewarding, but it is also very hard. And I think business owners can become quite jaded and we see that in various contexts with it all, but I guess our families and also our other mentors were able to give us the space to go and try things and make it work," Mr Griffin agreed. 
"And they provided advice when needed, but didn't sort of seek to impose on us, 'It must be done this way or you're going to learn this the hard way,' they sort of let us grow and evolve ourselves, which is I think really important for any business owner, starting your business to be able to do that."
Hazelbrook is currently 16-staff strong and has recently opened up an office in Sydney – and Mr Griffin said they've always had a "very strong view" about what they wanted the firm to be. 
"Part of that was, as I said earlier, taking what I'd like from the big firms and also what Annabel learned from a finance perspective and bringing that into the boutique show, but also leaving behind the issues that often crop up in large law firms and other organisations in terms of culture, so that permeates everything that we've done. And we are very focused. We are relationship-based and that is, internally, we build deep trusted relationships with our staff, but also externally with our clients," he said.
"We focus on quality and excellence in everything that we do. We do what we say we're going to do, which is easy to say, but very hard to implement. And we have a no-dickheads policy, which cuts across everything because we just won't tolerate all behaviour and it shouldn't be tolerated. And it is tolerated in many businesses, but not in this one. Internally, it also goes in terms of our interactions with clients because there should be mutual respect between client and service provider. And there almost always is, but occasionally, that falls down. In terms of where we want to be, we aim to and aspire to be the most highly regarded and best boutique law firm in Australia."
More to come. 
The transcript of this podcast episode was slightly edited for publishing purposes. To listen to the full conversation with Annabel and Hugh Griffin, click below: