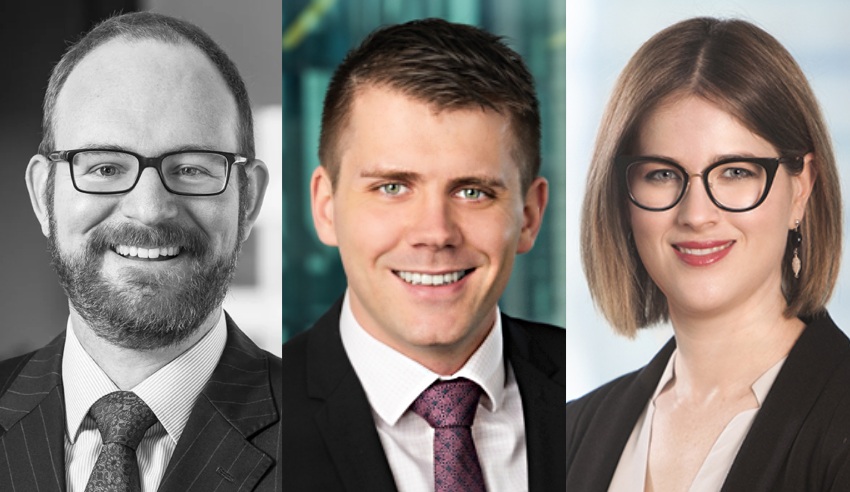 East coast-based firm McCullough Robertson has appointed two new partners, seen the return of one, and has promoted six to special counsel and five to senior associate.
The firm's industries in government, renewables and ESG will be bolstered by the return of partner Louise Horrocks and the appointment of Michael Lucey and Andrew Bukowski.
Mr Lucey joins McCullough Robertson from national firm Clayton Utz and adds further depth to its government practice. 
Mr Lucey has over a decade of high-end experience across all aspects of public and administrative law litigation at all levels of government and is a trusted adviser to a range of Commonwealth, state and local government departments and government-owned entities.
"His appointment builds on McCullough Robertson's depth of expertise and experience in delivering for government clients at all levels," McCullough Robertson said in a statement. 
Mr Bukowski joined the firm in 2013 as a graduate. His appointment bolsters the firm's focus on the renewables space.
Mr Bukowski is a corporate lawyer in the traditional mining and resources space and has been integral in building the firm's practice in renewables and other new and emerging energy markets, as well as critical minerals.
His practice includes large and complex merger and acquisition transactions and areas of specialisation relevant to the area, including complex foreign investment rules that are key to any international corporate investment into Australia-based resources and renewable projects.
Louise Horrocks is a specialist energy corporate lawyer with 15 years of deep industry experience and knowledge. 
She returns to the firm to lead McR ESG, a diversified business providing legal and non-legal advisory services in the areas of ESG strategy, decarbonisation, investment, corporate governance and sustainability initiatives. 
Recognising the growing importance of ESG for clients, McR ESG provides strategic advice and practical implementation support and solutions to help clients comprehensively shape their response to, and create value from, evolving ESG pressures and opportunities.
Reece Walker, McCullough Robertson's chair of partners, said: "I am delighted to welcome Michael and Andrew to the partnership, and to see Louise's return and the establishment of McR ESG.
"Adapting to ever-changing market needs and aligning our focus to strengthen the support we provide to our clients is fundamental to our business.
"I look forward to working closely with Michael, Andrew and Louise, as we adapt to meet new world challenges, and head towards our 100th year and beyond."
In addition to the partner promotions, the following have been promoted to special counsel: Emile McPhee, James Lynagh, Meg Morgan, Naomi Omundson, Nathan Roberts and Tom Reaburn.
Meanwhile, Ben Turnbull, Celia Luki, Matthew Stewart, Melissa Simpson and Michael Horrocks have been promoted to senior associate.