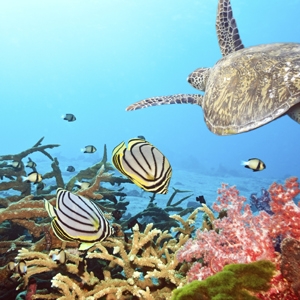 Marque Lawyers has taken out this year's Roll On Friday (ROF) Australian Firm of the Year Award and plans to leverage off the glory to open an office in the Maldives.
With a whopping 92 per cent staff satisfaction rate, the firm took out the top spot on the basis of its high quality bathrooms and awesome biscuits.
Managing partner Michael Bradley was rather chuffed by the win, telling Lawyers Weekly the firm would have done even better if there had been a category for Friday afternoon snacks, and if ROF had given them more credit for their selection of tunes.
"The office music is actually way better than ROF suggested," he said. "We've been on a program to cull the 90s trance tracks and inject a lot more Rihanna."
Given that the lawyers at Marque have previously been recognised for being really good looking, Bradley dismissed claims that general hotness is behind his staff's high rates of satisfaction.
"On the question of whether our staff are so happy because they're all good looking, the answer obviously is the reverse," he said. "Happiness makes you good looking."
Amongst the comments made about the firm in the annual contest were "great partners" who are "good at mentoring and supportive of staff"and"everyone is treated as equals".
Marque lawyers were also happy with the "outstanding" work/life balance, the compulsory "4pm Pens Down Rule" on Fridays and the"lunchtime legends netball".
For Bradley, the win is particularly satisfying.
"We're actually delighted by winning this one, because what we think of our own workplace is so much more important than what anyone else imagines it might be," he said. 
But the firm doesn't plan on stopping there, with plenty more plans for glory in the pipeline.
"Can we top this achievement?Of course we can," he said. "Our ultimate aim is to be the subject of a reality TV show and use the proceeds to move our office to the Maldives."
The firm plans to celebrate the win by declaring next Friday "Sausage Roll on Friday" and having "a proper pig-out".
For a second year running, Mills Oakley came in as runner up, while Piper Alderman took out third spot for having a "Chief Operating Officer (COO) who loves to dress up and has been known to slip into Lycra".