Goodbye job applications, hello dream career
Seize control of your career and design the future you deserve with
Freedom meets responsibility at Bar
Life as a junior counsel has its pros and cons, according to a joint winner of the Gray South Australian Young Lawyer Award.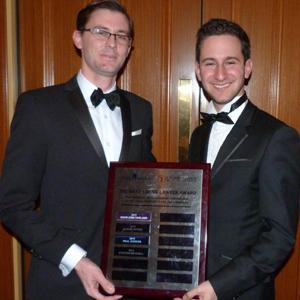 Stephen Mitchell (pictured, on left), a barrister at Anthony Mason Chambers, was named joint winner of the award, alongside Finlaysons associate Paul Gordon (pictured, on right), at the Burgess Paluch Young Lawyers Ball on 19 April.
You're out of free articles for this month
To continue reading the rest of this article, please log in.
Create free account to get unlimited news articles and more!
Mitchell joined the Bar after five years as a solicitor with Fox Tucker.
The "terrific freedom" of life at the Bar, he said, is also the single greatest challenge.
"Freedom to set your own hours, subject to the court; freedom from six-minute units and timesheets and managing partners tapping you on the shoulder asking you why your timesheet wasn't submitted yesterday [are terrific perks]," said Mitchell.
"But you very quickly learn that you don't get four weeks pay for holidays and if you don't accurately record your time, you don't send bills, you don't manage your practice properly, you're not going to get very far; so the freedom comes with … probably more weighty responsibility."
Mitchell admits it has been a challenge to get the balance right but said "freedom wins the day; it is a terrific life as a junior barrister".
The two award recipients were selected from a list of 20 nominees, who represented a broad spectrum of SA's legal profession at the sell-out event run by The Law Society of SA.
Supreme Court judge The Hon Justice Gray, who founded and funded the Award, said it was a privilege to present the Award to such outstanding legal practitioners.
VIEW ALL
Gordon, as an associate to The Hon Justice White at the Supreme Court, played a significant part in reforming the system for submitting and hyperlinking lists of authorities.
In his current role, he prepared and disseminated instructional videos on how to use the improved system and also pioneered Finlyasons' pro bono policy.
Giving back
Mitchell has achieved considerable success as a junior counsel and has also been a passionate advocate of community service and improving mechanisms to support young lawyers.
In private practice, he founded and ran the DLA Phillips Fox Young Professionals Group, providing networking and development opportunities for young professionals across a diverse range of industries.
In August last year, Mitchell became a member of the Bar Council of the SA Bar Association.
"I 'ummed and ahhed' a bit about whether I wanted to do that; would I have time? But I'm very glad I did.  Especially as a junior barrister, you meet the broader cross-section of barristers who you might otherwise not come into contact with," he said, adding that the collegiality in his chambers and the wider SA Bar has been excellent.
"I get the impression the Adelaide Bar is slightly different to Sydney and Melbourne. We're [a lot smaller] and we come from the background of a fused profession where we don't have a traditional distinction between barristers and solicitors."
Mitchell gives regular pro bono legal advice to victims of crime and is a member of the Law Society of SA's Professional Development Advisory Group and Young Lawyers Support Group.
He also co-founded and is current chair of Renew Adelaide, a not-for-profit organisation that helps to revitalise urban areas and create social and economic opportunity by placing creative enterprise in empty commercial spaces.
Both he and Gordon received a $1500 Lexis Nexis voucher, with Justice Gray donating $2000 towards the prize and Lexis Nexis putting in $1000.
"My number-one career objective ... is to improve my skills as an advocate," said Mitchell.
"When you see the very subtle magic of a good and experienced counsel, you can see that it's a very special skill that takes a lot of practice and careful training."