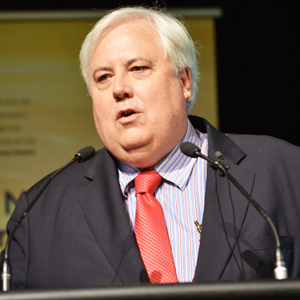 A Queensland barrister will contest the seat of Warrego for the Palmer United Party at this month's state election.
Guy-Theodore Sara from Bank of NSW Chambers in Brisbane has been endorsed as a candidate for the party led by Clive Palmer (pictured) in Queensland's state election to be held on 31 January.
Joining the Bar nine years ago, Sara practises in the areas of commercial, family and employment law. He has also been involved in coronial inquests.
Sara listed health, welfare and law and order as some of his key policy interests, reportedWarwick Daily News.
"I am outraged at the poor state of Queensland's health services and in particular the Premier's law reforms which are a great leap backward for the state. The LNP and Attorney-General Jarrod Bleiji's reforms are outrageous, out of control and are offensive to the rule of law," he said.
Candidate nominations close at noon today (13 January).