Centre stage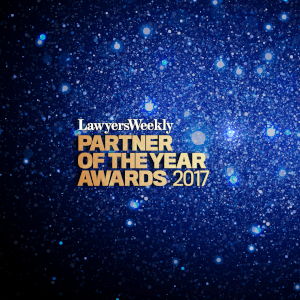 Presenting the winners of the 2017 Partner of the Year Awards… 
To make partner is no easy feat, especially in today's highly competitive legal market.
For many it's seen as the ultimate recognition of a lawyer's skills, demonstrating years of dedication and effort.
Those who do reach this goal are labelled among the best of the best in their field, advising on the most high-profile deals for the most sought-after clients.
Within their practice they are praised for their level of commitment to the profession and in turn, motivate its up-and-comers to aspire to similar objectives.
At Lawyers Weekly, we recognise the efforts of these partners and their wider contributions to the legal profession.
Now in its second year, our Partner of the Year Awards celebrated outstanding performance by partners across a broad range of practice areas.
From banking and finance to family law, to financial services and workplace relations, we raised a glass to those who are at the height of their careers.
More than 400 people gathered at The Westin Sydney for this year's black-tie event, which was held on 28 April 2017.
The crowd was treated to a jam-packed evening hosted by James Smith, celebrating the finalists from firms across the country. They made up a mixed bunch, with representatives from major global firms, mid-sized players and boutiques alike.
The eventual winners of the night are some of Australia's most talented partners, the true trailblazers of the legal sector. They demonstrate leadership, technical expertise, mentorship and business development skills.
The partners recognised at the event should not be underestimated, with these people paving the way for achievement and advancement in the business of law.
Lawyers Weekly offers a hearty congratulations to all the finalists, as well as the winners who were ultimately successful on the night.
We hope to see you back again next year!
MEET OUR WINNERS
Criminal – presented by Momentum Intelligence
Winner: Andrew Tiedt, Armstrong Legal
Mr Tiedt is a partner within Armstrong Legal's criminal law team. He is described as someone who brings a unique ability in representing his clients, ensuring they obtain the best possible result.
With a broad range of knowledge and expertise in criminal law, Mr Tiedt has earned the trust of numerous clients within his practice area.
His career has seen him handle cases across the entire spectrum of criminal law matters, including prosecutions for murder, fraud, violence and drug offences. He also has vast experience in handling ASIC and tax investigations, as well as roads and maritime matters.
Native Title – presented by Lawyers Weekly
Winner: Tony Denholder, Ashurst
Mr Denholder is the joint practice head of Ashurst's national native title practice. On top of this, Mr Denholder is Ashurst's global client relationship partner for the Rio Tinto Group, having advised them on numerous native title and land access issues in Australia since the last '90s.
Together with his team, Mr Denholder advises various companies in the resources and infrastructure sectors. He is described by those who know him as a "market leader in native title advice" and is regarded to be "in the elite bracket and always busy".
Government – presented by Sheahan Lock Partners
Winner: Caroline Bush, Clayton Utz
Bringing to her role over 20 years' experience, Ms Bush is identified as being one to watch in the government practice area.
As the partner in charge of Clayton Utz's Canberra office, Ms Bush lends her expertise to numerous Australian government clients in administrative law and commercial disputes.
She offers a distinct service in delivering strong understanding of the model litigant rules, has acted in a variety of merits reviews and judicial review proceedings, and offers an industry-recognised understanding of the practical realities of administrative decision-making.
Her persistent and productive nature sets her apart in overcoming some of the most complex government matters in Australia.
Insurance – presented by Spike
Winner: Deborah Templeman, Gilchrist Connell
Ms Templeman is a principal within Gilchrist Connell's Perth office.
Spending the bulk of her legal career on the west side, Ms Templeman has remained solid in delivering advice and representation in vital insurance claims for two decades.
In addition, Ms Templeman has offered clients insurance-related advice on transactions and preventative advice, alternative dispute resolution and litigation, police drafting/interpretation and risk management advice.
Her forward-thinking decision-making is paramount in her success in insurance claim resolution matters, which has included multimillion-dollar professional indemnity cases, directors and officers and public liability cases, as well as life insurance, medical malpractice and first party claims.
Migration – presented by Law Image
Winner: Alison Ryan, Refugee Advice & Casework Service
Holding a Masters of Laws focusing on international humanitarian law, Ms Ryan brings passion and commitment to Refugee Advice & Casework Services (RACS).
She is described as someone with a 'can do' attitude, who conducts her work in a solution-orientated but calm manner, effectively helping large numbers of unrepresented people.
Her extensive clientele list includes the United Nations, Norwegian Refugee Council and legal organisations in Palestine, Timor Leste, Cambodia and Sri Lanka, for which she has managed and worked on a range of legal and human rights program for.
Pro Bono – presented by thedocyard
Winner: Jeremy King, Corrs Chambers Westgarth
Mr King is a partner within Corrs Chambers Westgarth's Melbourne office. He has also held the position of chairman of Corrs' pro bono and community program since February 2016.
Effectively advising not-for-profits, and government and social enterprises in areas of social finance and impact investment, Mr King installs a committed approach to those who require his service, reflecting one of Corrs' core values which is the "generosity of spirit".
His own personal philanthropy and deep intellectual curiosity for solving complex problems without the promise of financial reward makes him a worthy recipient of the Pro Bono Partner of the Year.
Technology, Media and Communications – presented by Spike
Winner: Dr Martyn Taylor, Norton Rose Fulbright
A two-time winner of the Technology, Media and Communications Partner of the Year category, Dr Taylor is obviously doing something right.
His role as partner and head of the telecommunications group at Norton Rose Fulbright has seen Dr Taylor cover a variety of matters affecting the technology, media and communications space for over 20 years.
Some of his recent work includes advising on the US$15 billion telecoms infrastructure rollout in Myanmar, the US$42 billion Australian National Broadband Network transaction, and the US$40 million Foxtel/Discovery bid for Network Ten – to name a few of many.
Competition, Trade and Regulation – presented by Sheahan Lock Partners
Winner: Kirsten Webb, Clayton Utz
Ms Webb is a partner within Clayton Utz's Sydney office, advising on all aspects of competition law.
Admitted to practice law in 1993, Ms Webb has dedicated her work to advise on complex anti-trust litigation, merger clearance, investigations and enforcement action by the ACCC and other regulators.
Throughout her career, Ms Webb has also advised on marketing and other consumer protection issues for retail clients and has devised and implemented trade practices compliance programs.
According to the Clayton Utz website, Ms Webb has a particular interest in regulated industries and third-party access in water and wastewater, telecommunications, energy and rail.
Family Law – presented by Lawyers Weekly
Winner: Pierce Carstensen, McInnes Wilson Lawyers
Mr Carstensen has been instrumental in the development of McInnes Wilson Lawyers' family law practice since its inception in 2014.
In his role as a principal within the firm's Brisbane office, Mr Carstensen has dedicated his time to the full scope of family law matters.
Holding particular expertise in matrimonial property settlements, litigation in parenting matters and binding financial agreements, it is Mr Carstensen's extensive communication skills that separate him from the pack.
His dedication and professionalism see him labelled as a fierce negotiator and praised for his delivery of excellent results to clients.
Health – presented by Momentum Intelligence
Winner: Dr Teresa Nicoletti, Mills Oakley
Combining her love of law and science, Dr Nicoletti is a partner in Mills Oakley's Sydney office.
She brings to her role more than 20 years' experience in the pharmaceutical, biotechnology and medical device industries in Australia and New Zealand. On top of this, Dr Nicoletti has also worked across a number of product-related industries, such as foods, cosmetics, veterinary pharmaceuticals, agrochemicals and industrial chemicals.
An experienced negotiator and in regular correspondence with regulatory authorities and government administrators, Dr Nicoletti demonstrates a clear passion for her practice area, with this award an evidence of her dedication to the field.
Insolvency – presented by Sheahan Lock Partners
Winner: Dominic Emmett, Gilbert + Tobin
Mr Emmett heads the restructuring and insolvency group at Gilbert + Tobin.
Bringing almost 30 years' experience to the role, Mr Emmett has acted on some of Australia's largest workouts and insolvencies. As well as local experience, Mr Emmett also holds significant international expertise.
Some of his high-profile clients include Nine Entertainment, Westpoint, Ansett, Billabong, Alinta Energy, I-Med, Centro, Freight Link, Cross City Tunnel, Brisconnect, RiverCity, Timbercorp, Walter Construction, MF Global and Top Ryde.
Chambers Asia-Pacific 2016 noted Mr Emmett as one who "jumps to mind as being the best in the market".
Planning and Environment – presented by Law Image
Winner: Jeff Lynn, Ashurst
A partner within Ashurst's utilities practice, Mr Lynn specialises in the areas of environmental, planning and climate change law.
Throughout his career, Mr Lynn has acted for a range of both public and private sector clients primarily focused in the energy, resources, infrastructure and waste industries.
As well as making partner, Mr Lynn is also chair of Ashurst's Melbourne Office Environment Committee and a member of the firm's Champions of Change program.
It is this dedication to his firm and clients alike that makes Mr Lynn a worthy recipient of the Planning and Environment Partner of the Year.
Banking and Finance – presented by thedocyard
Winner: Claire Rogers, King & Wood Mallesons
Ms Rogers is partner in King & Wood Mallesons' Sydney office.
Obtaining her Bachelor of Law and Bachelor of Arts at the University of Western Australia in 2002 and becoming a partner at KWM just over 10 years later in 2013, Ms Rogers has a reputation for cutting-edge work.
She has advised clients from right across the country, as well as those in Asia, Europe and Africa.
Some of her notable work includes acting for lenders to the successful bidder for the Perth Stadium PPP, acting for lenders in relation to a bid the Sunshine Coast University Hospital PPP, acting for the subordinated debt providers to the successful consortium for Single LEAP 2 and Queensland Schools, and acting for lenders to a bidding consortium for the Sydney Light Rail PPP.
Projects, Energy and Resources – presented by Spike
Winner: Amanda Davidson, Davidson. Legal, Consulting, Advisory
Once bestowed the Order of Australia, Ms Davidson is nothing short of impressive.
Holding over 25 years' legal experience, Ms Davidson specialises in major infrastructure, construction and engineering projects across Australia, Asia and the Middle East.
She is described as an innovator, and someone who comes up with solutions to complex matters by using her lateral thinking and maintaining an ability to think outside the box.
Her drive to get the best results has been instrumental in her firm's success, as well as her commitment to creating a culture of inclusiveness where people feel nurtured and appreciated, regardless of their differences.
Taxation – presented by Sheahan Lock Partners
Winner: Michael Clough, King & Wood Mallesons
Mr Clough is a partner within King & Wood Mallesons' Melbourne office.
Bringing over 35 years' experience to his role, Mr Clough has been instrumental in growing KWM's tax dispute since it's unveiling in 1988.
Throughout his career within this practice, Mr Clough has acted for some of the largest corporations in Australia in high-profile cases.
He has provided phenomenal expertise in all aspects of tax audits and litigation, such as negotiations and actions in relation to the collection of tax, access to premises, production of documents and tax appeals.
Construction and Infrastructure – presented by Law Image
Winner: David Hugo, Herbert Smith Freehills
Hailing from Perth, Mr Hugo has been with HSF since 1999.
He holds a partner position in the WA capital, specialising in public and private sector infrastructure and land access matters.
Throughout his career, Mr Hugo has advised clients on land access matters for major infrastructure projects, and has gained experience with energy, resources and transport sector land, port and rail access projects, linear infrastructure developments, Crown land access and approvals, major infrastructure and property development and large-scale commercial acquisitions and disposals of property and assets.
In addition, Mr Hugo has worked with both private sector clients and all levels of government in relation to a range of major infrastructure matters, and is equally proficient in dealing with capital asset, land tenure and outsourced service aspects of transactions.
Intellectual Property – presented by Lawyers Weekly
Winner: John Lee, Gilbert + Tobin
John Lee is a partner in Gilbert + Tobin's intellectual property group, bringing with him a biotechnology degree. On top of this, he is also a registered patent attorney, giving him a definite edge over his competitors.
Mr Lee installs a productive and pragmatic approach to his work in advising on the full spectrum of intellectual property law matters.
His particular focus point is on patent litigation across a range of industries, including resources, life sciences, financial services and digital technologies.
Mr Lee's work is well regarded, having acted in a number of leading cases in the Federal Court in recent years. He is known for having an ability to simplify the many complex issues that IP issues may often present.
Commercial – presented by thedocyard
Winner: Dr Martyn Taylor, Norton Rose Fulbright
Obtaining his second award scoop up of the night, Dr Taylor is world-class.
His involvement in commercial matters for Norton Rose Fulbright has earned him considerable props throughout the firm.
He is described as smart, efficient and friendly, making him not only worthy of two awards at this year's Partner of the Year, but a role model for all.
Dispute Resolution and Litigation – presented by Law Image
Winner: Jason Betts, Herbert Smith Freehills
Jason Betts is a partner within Herbert Smith Freehills' Sydney office.
Kicking off his legal career with a Bachelor of Commerce (Honours) and a Bachelor of Laws (Honours) from the University of Sydney, Mr Betts quickly found his calling in disputes and went on to obtain a Master of Laws from the University of Virginia, where he specialised in class action defence.
He is described as one of Australia's premier class action lawyers and also specialises in complex litigation, crisis management and regulatory investigations and prosecutions.
Mr Betts has vast experience in representing a number of noteworthy clients, such as OZ Minerals, Newcrest Mining Limited and Centro.
Financial Services – presented by Momentum Intelligence
Winner: Nathan Hodge, King & Wood Mallesons
With over 15 years' experience, Mr Hodge brings great finesse to his role as a partner within King & Wood Mallesons' Sydney office.
Throughout his career, Mr Hodge has advised numerous major banks and wealth management institutions, retail, industry and corporate funds, public sector schemes, investment managers and administrators across the full spectrum on financial services law.
His ability to position himself as a leader has helped take KWM's Sydney practice to great heights, as has his patience and commitment to educating the next generation of lawyers.
Mergers and Acquisitions – presented by thedocyard
Winner: Philippa Stone, Herbert Smith Freehills
Consistently recognised for her show-stopping ability to get the job done, Philippa Stone thrives in a practice area with incredibly high stakes.
As a partner at Herbert Smith Freehills, and joint global head of the firm's Equity Capital Market team, Ms Stone has been a staple in helping shape HSF's Sydney team to what it's known for today.
Throughout her time here she has advised on multibillion-dollar deals for some of the most sought-after local and international clients.
One of her most notable deals was acting for Yancoal Australia Limited on its $8 billion scrip merger with Gloucester Coal and ASX-listing – the first Chinese SOE listing on the ASX.
Real Estate – presented by Spike
Winner: Nikki Robinson, Clayton Utz
Nikki Robinson holds the title of national practice group partner of Clayton Utz's real estate team.
She holds over 18 years' experience advising on real estate, urban renewal infrastructure development and general commercial property and funds work.
Ms Robinson is described as a partner installing a very hands-on approach in finding practical, commercial solutions that provide her clients with the best end result.
This year's Chambers and Partners labelled her as a professional who is very much across all the issues of the real estate world, and someone who is very approachable and easy to deal with.
Workplace Relations – presented by thedocyard
Winner: Carlie Holt, Sparke Helmore Lawyers
Carlie Holt is a partner within Sparke Helmore Lawyers Sydney practice, where she has worked since 2002.
In her role as being the first point of call for organisations when a workplace incident occurs, Ms Holt oozes a patient yet productive work ethic.
Throughout her career she has been that first point of call for clients in the construction, manufacturing, health care, aged care and fast moving consumer goods sectors, as well as local authorities and state government.
The general consensus in which clients describe Ms Holt as is one of great poise. They say her responsiveness and professionalism are world-class, above others in her field.
Partner of the Year Excellence Award – presented by Lawyers Weekly
Winner: Michael Clough, King & Wood Mallesons
Chosen from the winners of the award categories, the Lawyers Weekly Partner of the Year Excellence Award recognises this year's top performer. This recipient received the highest scores from the judges out of all the categories, displaying excellence in the business of law, coupled with a true passion for the profession.

JUDGES:
Lawyers Weekly would like to thank the judging panel for being involved in the second annual Partner of the Year Awards.
Professor Michael Adams, dean of law, Western Sydney University
Will Alstergren, president, Australian Bar Association (VIC)
Kate Ashmor, principal and managing director, Ashmor Legal
Claire Bibby, senior vice president and general counsel, Brookfield
Raechelle Binny, general counsel of banking products and markets, NAB
Benedict Coyne, president, Australian Lawyers for Human Rights
Cameron Cross, general counsel - customer and commercial, NBN Co Limited
Norman Donato, president, The Commercial Law Association of Australia
Rebecca Edwards, general counsel, PAYCE Consolidated Limited
Justin Forsell, chief legal counsel and head of legal and security department, NBN Co Limited
Professor Sandeep Gopalan, dean and professor of law, Deakin University
Suzanne Greenwood, CEO, Catholic Health Australia
Iresha Herath, general counsel - legal services, Western Health
Dominique Hogan-Doran SC, senior counsel, Australian Bar
Ashe-Lee Jegathesan, general counsel and company secretary, Vocus
Tamara Kayser, group general counsel, Incitec Pivot Limited
Caroline Kirton QC, barrister and arbitrator (FCIArb, DiplCArb), Victorian Bar
Fiona McLeod SC, president, Law Council of Australia
Jane Needham SC, past president, NSW Bar Association
Greg Phelps, immediate past president, partner, Australian Lawyers Alliance, Ward Keller
Professor Michael Quinlan, dean of law, The University of Notre Dame Australia
Professor Rocque Reynolds, dean of law, Thomas More Law School, Australian Catholic University
Craig West, CEO and founder, Succession Plus
George Williams AO, dean, Anthony Mason Professor, Scientia Professor, UNSW Law
Belinda Wilson, president, Law Institute of Victoria
Methodology:
The development of the judging panel for the 2017 Partner of the Year Awards involved a collaborative approach.
To ensure professionalism and transparency, a judging panel made up of respected industry professionals with zero conflict of interest were chosen to examine the submissions.
The criteria for these submissions required all award entrants to complete a detailed online document, which included written referrals and additional documentation to support their submission.
The submissions were then assessed against specific metrics and business performance parameters to determine the finalists.
Each judge was assigned a number of categories and were asked to score each submission in those categories based on all documentation provided by award entrants.
The aggregate highest score determined the winner of each award.
SPONSORS:
Lawyers Weekly would like to thank this year's event partners for their invaluable support:
thedocyard
Law Image
Sheahan Lock Partners
Spike
Momentum Intelligence