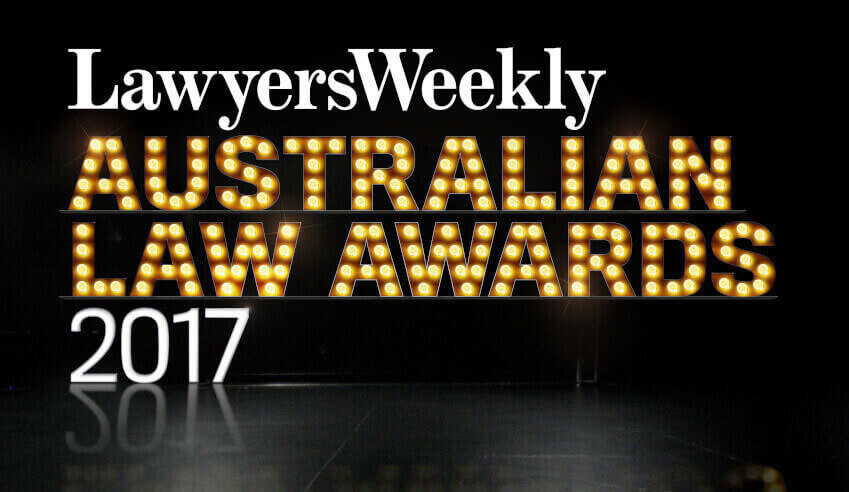 Lawyers Weekly is pleased to announce the finalists for the Australian Law Awards 2017.
Now in its 17th year, the annual Lawyers Weekly Australian Law Awards is the premier legal event of the year.
Across 34 blockbuster categories, everyone is recognised at the Australian Law Awards, from the profession's most senior ranks to its rising stars.
After seeing the most hotly contested submissions in the event, finalists have been narrowed down, representing those trailblazers who are challenging traditional models and discovering better ways to practise law.
The winners of the Australian Law Awards will be announced at a black-tie dinner held at The Star, Sydney on Friday, 1 September 2017.
For more information about the event, click here.
To purchase a ticket, click here.
For all other enquiries, please contact Craig Lynch on 02 9922 3300 or email This email address is being protected from spambots. You need JavaScript enabled to view it.. 
The finalists for the 2017 Australian Law Awards are:
Academic of the Year
Matthew Bell, Melbourne Law School
Jacques Duvenhage, The University of Notre Dame
Michael Legg, UNSW Law
Banking and Finance Team of the Year
Allen & Overy
Allens
Clayton Utz
Gadens
Gilbert + Tobin
Hall & Wilcox
Henry Davis York
King & Wood Mallesons
Madison Marcus Law Firm
Barrister of the Year
Shane Doyle, QC, Level Twenty Seven Chambers
William Lye, OAM, Foley's List
Jim Shaw, Svenson Barristers
Dr Michael Wolff, Victorian Bar
Boutique Law Firm of the Year
Chamberlains Law Firm
Clarendon Lawyers
CLEON Legal and Mediation Services
Coleman Greig Lawyers
Harmers Workplace Lawyers
NDA Law
Madison Marcus Law Firm
NDA Law
Salvos Legal
Silberstein & Associates
Speirs Ryan 
Business Development Professional of the Year
Sophie Brown, Gilbert + Tobin
Rachel Carter, PwC
Paul Cowling, Lawyers On Demand
Melissa Lyon, Hive Legal Pty Ltd
Sharon Stockman, Sparke Helmore Lawyers
Sharon Thompson, Ashurst
Commercial Team of the Year
Allens
Australian Business Lawyers & Advisors
Gadens
Gilbert + Tobin
King & Wood Mallesons
Thynne + Macartney
Dealmaker of the Year
Gina Cass-Gottlieb, Gilbert + Tobin
Julie Levis, Clayton Utz
Rebecca Maslen-Stannage, Herbert Smith Freehills
Hiroshi Narushima, Gilbert + Tobin
Meredith Paynter, King & Wood Mallesons
Ramy Qutami, Madison Marcus Law Firm
Philippa Stone, Herbert Smith Freehills
Tom Story, Allens
Andrew Walker, Clayton Utz
Murray Wheater, Ashurst
Dispute Resolution Team of the Year
Allens
Carter Newell Lawyers
Clayton Utz
Dentons
DLA Piper
Harmers Workplace Lawyers
Herbert Smith Freehills
King & Wood Mallesons
Sparke Helmore Lawyers
William Roberts Lawyers
Employee Program of the Year
Clayton Utz, Health & Wellbeing
Cooper Grace Ward, ENGAGE
Gadens
Henry Davis York, TogetherHDY
Henry Davis York, Transition to Leadership for New Senior Associates Program
King & Wood Mallesons, LINK
LegalVision, Part Time Passion
Your Law Firm
Energy and Resources Team of the Year
Allen & Overy
Allens
Ashurst
Corrs Chambers Westgarth
Herbert Smith Freehills
King & Wood Mallesons
McCullough Robertson
MinterEllison 
Norton Rose Fulbright
PwC 
General Counsel of the Year
Katrina Johnson, Uber Asia Pacific
Tamara Kayser, Incitec Pivot Limited
Anna Lozynski, L'Oreal Australia & New Zealand
Aaron Pickett, GenesisCare
Julian Rebechi, Swisse Wellness
Paula Robinson, Gold Coast 2018 Commonwealth Games Corporation
Julie Ryan, Accolade Wines
Troy Swan, Staples Australia & New Zealand
Government Team of the Year
Allens
Clayton Utz
Henry Davis York 
Herbert Smith Freehills
King & Wood Mallesons
Maddocks
McInnes Wilson Lawyers
MinterEllison Gold Coast Local Government Team
Proximity 
Sparke Helmore Lawyers
In-House Lawyer of the Year
Justin Coss, AUB Group Limited
Jason Georgallis , SingTel Optus
Theo Kapodistrias, University of Tasmania
Lori Middlehurst, VMware 
Peter Preller, SingTel Optus
Julian Rebechi, Swisse Wellness
April Rich, Gold Coast 2018 Commonwealth Games Corporation
Andrew Selim, The GPT Group
David Stewart, Telstra
Jacob Waye-Harris, Cobham Aviation Services
In-House Team of the Year
AIA Australia
Gold Coast 2018 Commonwealth Games Corporation
McDonald's Australia Limited
RACQ Limited
Ruralco Holdings Limited
SingTel Optus
Stockland
Uber Australia and New Zealand
Vicinity Centres
Westpac Banking Corporation
Innovator of the Year
Allens
Ashurst
Bespoke
Corrs Chambers Westgarth
Gadens
Gilbert + Tobin
Go To Court Lawyers
Herbert Smith Freehills
King & Wood Mallesons
Separate Together
Insurance Team of the Year
Ashurst
Barry.Nilsson. Lawyers
Clyde & Co
DLA Piper
Hall & Wilcox
Herbert Smith Freehills
Holman Webb Lawyers
Lander & Rogers
Meridian Lawyers
Norton Rose Fulbright 
Intellectual Property Team of the Year
Allens
Baker McKenzie
Clayton Utz
Gilbert + Tobin
Griffith Hack
K&L Gates
Mills Oakley
MinterEllison
Shelston IP
Sparke Helmore Lawyers
Law Firm of the Year
Allens
Ashurst
Clayton Utz
Clyde & Co
Corrs Chambers Westgarth
Gilbert + Tobin
Hall & Wilcox
Herbert Smith Freehills
King & Wood Mallesons
Mills Oakley
Law Student Lawyer of the Year
Adrian Agius, UNSW Law
Amy Bradley, The University of Notre Dame
Claudia Carr, Curtin University
Meg Connell, RMB Lawyers
Milan Gandhi, McCullough Robertson Lawyers/The Legal Forecast
Michael Jefferies, University of the Sunshine Coast
Hannah McDonald, Monash University
Don Nguyen, MinterEllison, UNSW Law
Sophie Tversky, Monash University
Khushaal Vyas, UNSW Law
Legal Support Professional of the Year
Danielle Candido, KHQ Lawyers
Terrena Chant, Barry.Nilsson. Lawyers
Bernadette Dearness, K&L Gates
Clara Densley, See Well Law
Serina Dowding, Slater and Gordon Lawyers
Debbie Harding, Herbert Smith Freehills
Jacqueline Keddie, Nexus Law Group
Viktorija Khait, Maurice Blackburn Lawyers
Rebecca Lanza, Slater and Gordon Lawyers
Laura Purcell, Danny King Legal
Managing Partner of the Year
Paul Baker, Meridian Lawyers
Peter Bobbin, Argyle Lawyers
Rob Cutler, Clayton Utz
Danny Gilbert, Gilbert + Tobin
Sue Kench, King & Wood Mallesons
Tony Macvean, Hall & Wilcox
John Poulsen, Squire Patton Boggs
Bechara Shamieh, Madison Marcus Law Firm
Robert Silberstein, Silberstein & Associates
Richard Wood, Gilchrist Connell
NewLaw Firm of the Year
Bespoke
CLEON Legal & Mediation Services
Hive Legal Pty Ltd
Keypoint Law
Lawyers On Demand
LegalVision
Nexus Law Group
Salvos Legal
Teddington Legal
Your Law Firm
Partner of the Year
Stuart Byrne, Clayton Utz
Karwan Eskerie, Sparke Helmore Lawyers
Malcolm Gittoes-Caesar, Coleman Greig Lawyers
Alex Haslam, Gilchrist Connell
Peter Jolly, Thynne + Macartney
Andrew Lacey, McCabes Lawyers
Kylie Lane, Ashurst
Peter Pether, King & Wood Mallesons
Greg Richards, Mills Oakley
Philippa Stone, Herbert Smith Freehills
Pro Bono Program of the Year
Arnold Bloch Leibler
Ashurst
Gilbert + Tobin
Herbert Smith Freehills
International Justice Mission Australia
King & Wood Mallesons
MinterEllison
Robina Community Legal Centre
Salvos Legal
The Humanitarian Group
Property Team of the Year
Clayton Utz
Colin Biggers & Paisley
Dentons
Herbert Smith Freehills
K&L Gates
King & Wood Mallesons
Lander & Rogers
Squire Patton Boggs
Thynne + Macartney
Tisher Liner FC Law
Regional/Suburban Law Firm of the Year
CLEON Legal and Mediation Services
Harwood Andrews
Morgan + English Commercial Lawyers
Randall Legal
RMB Lawyers
Sharrock Pitman Legal
Regional/Suburban Lawyer of the Year
Melinda Griffiths, Slater and Gordon Lawyers
Chrissy Leontios, CLEON Legal and Mediation Services
Rebekah Lovely, Slater and Gordon Lawyers
Heather McKinnon, Slater and Gordon Lawyers
Brooke Reardon, Your Law Firm | Horsham
Martin Rogalski, Slater and Gordon Lawyers
Carrie Thomas, Shine Lawyers
Mitchell Zadow, Sharrock Pitman Legal
Senior Associate of the Year
Agata Bober, King & Wood Mallesons
Morelle Bull, Gilbert + Tobin
Marko Eric, Slater and Gordon Lawyers
Andrew Kim, Ashurst
Helen McHugh, Curwoods Lawyers
Jessica Norris, MinterEllison
Eugene Tan, Clayton Utz
Tara Voyce, Dentons
Bailee Walker, Herbert Smith Freehills
Amy Zhang, Harmers Workplace Lawyers
Sole Practitioner of the Year
Dorota Bryks, Bryks Lawyers
Stuart Corbishley, Corbishley Sport & Law
Jennifer Hetherington, Hetherington Family Law
Michael (Chun-Chi) Hung, ClearSky Legal
Anny Slater, Slaters Intellectual Property Lawyers
Nigel Smith, Nigel Smith Legal
Special Counsel of the Year
Jennifer Barron, Gilbert + Tobin
Nichola Di Muzio, Thynne + Macartney
Arabella Dove, Ashurst
Jennifer Harris, Clayton Utz
Brett Heath, Carter Newell Lawyers
Chris Mitchell, Norton Rose Fulbright
Guy Narburgh, Herbert Smith Freehills
Megan O'Rourke, Barry.Nilsson. Lawyers
Trudi Procter, McCullough Robertson Lawyers
Hemang Shah, Herbert Smith Freehills
Transaction Team of the Year
Allen & Overy
Ashurst
Corrs Chambers Westgarth
Gilbert + Tobin
Herbert Smith Freehills
King & Wood Mallesons
McCullough Robertson Lawyers
MinterEllison
Norton Rose Fulbright
Squire Patton Boggs
Workplace Relations and Employment Team of the Year
Australian Business Lawyers & Advisors
Danny King Legal
Harmers Workplace Lawyers
K&L Gates
Lander & Rogers
Maddocks
Maurice Blackburn Lawyers
MDC Legal
Piper Alderman
Sparke Helmore Lawyers
Young Gun of the Year
Nina Crew, Colin Biggers & Paisley
David Foong, Clayton Utz
Yixin Gong, King & Wood Mallesons
Aleksandra Ilic, King & Wood Mallesons
Matthew Littlejohn, Maurice Blackburn Lawyers
Simon Moses, MinterEllison
Louisa Mulquiney, Gilbert + Tobin
James Skelton, Swaab Attorneys
Sagar Sritharan, Ashurst
Eleanor Wheelhouse, Dentons