A generation of legal eagles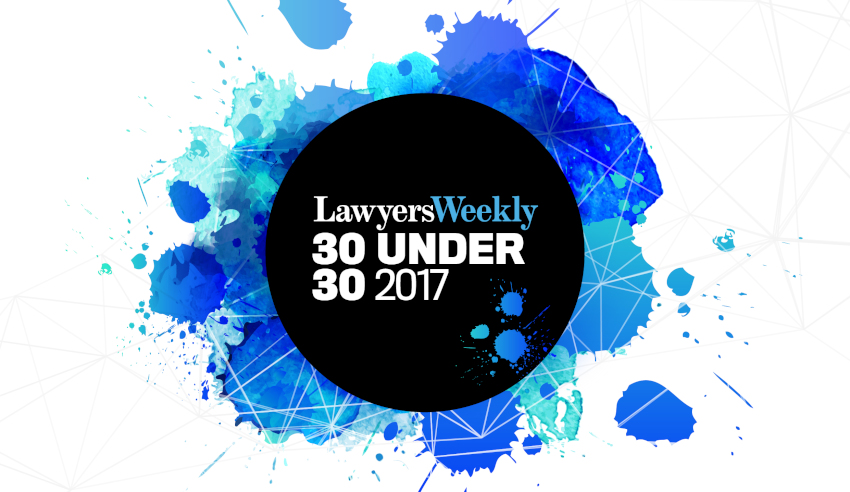 This year's 30 Under 30 celebrated top talent among a new wave of the legal profession. 
The next generation of lawyers are no doubt an impressive bunch. Between navigating hot competition in the legal market and overcoming the odds of landing a job in an environment where more graduates are being produced than ever before, these professionals should be recognised for the talent they exude.
Lawyers Weekly's recent 30 Under 30 raised a glass to these high achievers at a cocktail evening at the Ivy Ballroom in Sydney. More than 500 people gathered to praise the finalists and eventual winners of the night.
Together, those showcased at the event make up some of Australia's best and brightest solicitors, associates and senior associates, with some even nabbing a partner position in the early days of their career.
On behalf of Lawyers Weekly, we would like to congratulate all of those who made the cut. Your achievements and dedication to the future of the profession are proof that it is in safe hands.
WINNERS:
Mergers and Acquisitions – presented by Taylor Root
Joanna Lawrence, Corrs Chambers Westgarth
Ms Lawrence is an associate within Corrs Chambers Westgarth's M&A practice.
Over the past 12 months, she has acted in numerous billion-dollar deals, including for Staples on the sale of its Australian and New Zealand stationery supplies businesses.
The year has also been positive for Ms Lawrence's dedication to community service. She continues to lead the way for the organisation she established in 2011, dubbed Street Growth, a non-profit association which offers mental health programs to homeless and disadvantaged communities in Sydney's Kings Cross.
Ben Stewart, Squire Patton Boggs
Mr Stewart is a senior associate at Squire Patton Boggs, where he is a valued team member of the M&A team.
The WA-based legal professional has achieved vast milestones over the financial year, demonstrating finesse in advising on significant transactions and in his secondment at the Australian Takeovers Panel.
This year has also seen Mr Stewart head up a team of corporate lawyers across a range of M&A and equity capital market transactions, including the privatisation, divestment and listing of a foreign electricity authority, with an enterprise value of approximately $650 million.
Projects, Energy and Resources – presented by KordaMentha Forensic
Rupert Baker, Herbert Smith Freehills
Mr Baker is a senior associate in the finance, real estate and projects team at Herbert Smith Freehills.
Throughout the year, Mr Baker has had an extensive hand in advising HSF clients on the development and financing of major energy and infrastructure projects in Australia and overseas. He also advised many mining and energy clients in relation to corporate financing.
Mr Baker's additional achievements include chairing HSF Sydney's IRIS Network, participating in the firm's Emerging Leaders program, and taking an active role in recruitment activities, including acting as a buddy, mentor and coach to vacation clerks, graduates and junior solicitors.
Ellie Mulholland, Allens
Ms Mulholland is an associate within Allens' energy, resources and infrastructure practice.
Based in the firm's Melbourne office, Ms Mulholland specialises in the oil and gas, mining and power sectors.
During the past 12 months, some of Ms Mulholland's notable successes include advising high-profile clients such as Rio Tinto on the divestment of its joint venture interest in a mining project and St Barbara Limited on a strategic review of its Simberi oxide and sulphide gold mining and exploration project in Papua New Guinea.
Intellectual Property – presented by Taylor Root
Maggie Chan, King & Wood Mallesons
Ms Chan is a solicitor at King & Wood Mallesons' Sydney office, where she has contributed to building a practice which covers the full IP life cycle.
Throughout the past year, Ms Chan has advised a wide range of clients, including Nestle, LG, Duracell, Woolworths and eBay.
Self-described as an Australian-born Chinese, Ms Chan said her migrant family background sees her committed to raising awareness of cultural diversity in the workplace and broader legal profession. As such, she has been an integral part of KWM's Cultural Diversity Group, helping to spearhead the committee to success.
Alyson Poole, Norton Rose Fulbright
Ms Poole is an associate at the Sydney office of Norton Rose Fulbright.
Since joining the firm in 2013, after commencing its graduate program, Ms Poole has become an integral member of Norton Rose's IP team, establishing herself as the key associate contact for the firm's integral corporate and banking groups.
In the past year, Ms Poole has been heavily involved in providing trademark portfolio management services, and is the lawyer responsible for the firm's two largest trademark portfolio clients.
Family – presented by Monash Law
Ciara Daly, Aboriginal Legal Service
Ms Daly is a solicitor at Aboriginal Legal Service (ALS), where she has followed her passion in helping disadvantaged members of the community in their legal disputes.
Some of her most notable work include commencing a child representative practice where she has represented nearly every Aboriginal child in the Dubbo care and protection court list.
Her dedication and commitment to family law has seen her maintain a Sydney and Parramatta practice while driving to the central west of New South Wales for one to two weeks each month to meet clients in Dubbo, Orange, Parkes, Bathurst, Lithgow, Narromine and other regional towns.
Chloe Rattray, Lander & Rogers
Ms Rattray is a solicitor within the Melbourne office of Lander & Rogers.
Beginning her career as a graduate lawyer in 2015, Ms Rattray has since managed a significant case load of family law matters for the firm's family and relationship law practice.
This year alone, she has advised in Hague Convention child abduction matters, matters concerning medical treatment for gender dysphoria applications, complex property settlements and parenting litigation, and IVF and surrogacy matters.
Banking and Finance – presented by Taylor Root
Tara Senaratne, Hall & Wilcox
Ms Senaratne is a solicitor at Hall & Wilcox's Melbourne office.
Over the past year, Ms Senaratne has been given an extensive amount of responsibility in advising competitive banking and finance deals.
Among these deals include advising Newmark Capital Limited in its purchase of Melbourne's iconic Como Centre on Chapel Street, funded by Commonwealth Bank for $165 million. Another highlight was advising on the completion of a $90 million debt construction facility for Golden Sunrise Developments.
Rob Scutella, Gilbert + Tobin
Mr Scutella is a solicitor in Gilbert + Tobin's banking and infrastructure practice.
Throughout 2016, Mr Scutella played a vital role in over $16 billion worth of Australian transactions. This included acting for a consortium in the $10.3 billion privatisation of TransGrid and subsequent US Private Placement.
On top of this, Mr Scutella also advised lenders for a bidding consortium in the projected $4 billion privatisation of Endeavour Energy.
Government – presented by ANU Law
Nicole Maddocks, Sparke Helmore Lawyers
Ms Maddocks is now a solicitor at Sparke Helmore Lawyers, however her win represents work undertaken while at DLA Piper in the firm's Sydney litigation and regulatory team.
Over the 12 months, she regularly represented the Minister for Immigration and Border Protection in judicial review proceedings within the range of Commonwealth Courts, including the High Court of Australia and the Federal Court.
In the past year, Ms Maddocks has successfully finalised 168 matters for the Minister, with a success rate of 95 per cent.
Simon Moses, MinterEllison
Mr Moses is a solicitor at MinterEllison where he advises state governments, as well as national and international companies and consortia on some of Australia and New Zealand's largest and most high-profile infrastructure and procurement projects.
For two years, Mr Moses has been responsible for managing over 70 lawyers and almost as many support staff across MinterEllison's Sydney, Melbourne, Brisbane, Canberra and Hong Kong offices while assisting the Transport for NSW on its $2.3 billion procurement of the New Intercity Fleet.
In his spare time Mr Moses regularly attends and participates in Infrastructure Partnerships Australia's Transport Taskforce roundtables and the Committee for Sydney's Transport Taskforce roundtables.
Commercial – presented by UNSW Law
Yixin Gong, King & Wood Mallesons
Mr Gong is a solicitor in King & Wood Mallesons' Sydney practice.
His notable achievements over the year include acting for an Australian hospital group seeking to expand into the Chinese market, where he led a team of junior solicitors. He has also assisted in advising on the establishment of a $2.9 million renewable energy and technology start-up.
In addition to this work, Mr Gong established KWM's Mandarin discussion group and has grown it to a network of over 50 lawyers across Australia. He led the team to develop a knowledge management and collaboration tool called "Einstein" which consolidates past documents, precedents, presentations and commonly used clauses in an intuitive and easily accessible manner.
James Skelton, Swaab Attorneys
Mr Skelton is an associate at Swaab Attorneys.
Based in Sydney, Mr Skelton has continued to develop his skills in advising on integral commercial matters over the past 12 months.
Some of this work includes taking on a leadership role in the international rebranding of one of Swaab's key clients. In addition, Mr Skelton took the IP lead for Swaab's largest client in a long project. By combining his knowledge in this practice with his commercial acumen, the matter is able to deliver a positive result to the client.
Construction and Real Estate – presented by GlobalX
Rachel Richardson, Clayton Utz
Ms Richardson is a senior solicitor at Clayton Utz, operating out of the firm's Sydney-based real estate team.
The past 12 months have seen Ms Richardson specialise in a number of large-scale urban renewal developments and local government projects, including advising City of Parramatta Council on the development of 3 Parramatta Square and UrbanGrowth NSW on the disposal of Australian Technology Park in Eveleigh.
In addition, Ms Richardson has shown impressive initiative in taking on a leadership role in helping those in need, prompting her to be recognised as a Pro Bono leader of the firm given the cast hours and commitment she has dedicated to this line of work.
Louise Young, MinterEllison
Ms Young is a senior associate within MinterEllison's Queensland practice.
Some of Ms Young's most notable work over the year included being named the lead construction lawyer at the Gold Coast 2018 Commonwealth Games Corporation (GOLDOC), a $2 billion project which will see the Gold Coast host the largest sporting event Australia will see this decade.
This unique role has seen Ms Young demonstrate great initiative and leadership, while taking a proactive approach to her work and delivering training to her team. Her detailed knowledge of Queensland-specific construction statues has been critical to matter's success.
Taxation – presented by Major, Lindsey & Africa
Julie Abdalla, MinterEllison
Ms Abdalla is an associate at MinterEllison, based in the firm's Melbourne office.
Ms Abdalla's dedication to the business of law has seen her quickly progress as a lawyer since she joined MinterEllison's tax group in February 2016 and is quickly promoted to associate in July 2016.
Over the year she has acted for state governments and high-net-worth individuals, as well as corporate clients in the infrastructure, real estate, superannuation, energy and resources, and retail sectors.
Luke Imbriano, Deloitte Lawyers
Mr Imbriano is recognised as a client manager/associate at Deloitte Lawyers, where he is based in Melbourne.
At the beginning of 2016, Mr Imbriano became responsible for the management and delivery of the provision of taxation services to one of Deloitte's clients, an ASX-listed top 15 multinational.
Mr Imbriano's deep understanding of Australia's new foreign investment rules has also seen him responsible for the development of Deloitte Lawyers' foreign investment regulatory advisory offering.
Technology, Media and Telecommunications – presented by UNSW Law
James Majarich, MinterEllison
Mr Majarich is a solicitor at MinterEllison's Sydney office.
In the past 12 months, Mr Majarich has covered a broad range of matters and achieved commercially successful outcomes.
Among these include advising on the competitive tender process for the award of the $209 million licence to operate the central IT monitoring system for gaming machines in NSW.
Louisa Mulquiney, Gilbert + Tobin
Ms Mulquiney is based in Barangaroo at Gilbert + Tobin, where she works as a solicitor.
In the past 12 months, Ms Mulquiney has acted for some of Asia-Pacific's largest corporate and government clients, focusing on complex IT-outsourcing and transformation projects.
Her passion for emerging technology saw her attend a coding workshop run by the Coder Factory, where she designed an online platform for a key client to streamline internal approvals. Also using advances in technology to streamline processes, Ms Mulquiney worked closely with Gilbert + Tobin's legal project manager to develop an intuitive spreadsheet with automated legal processes, saving the team many hours of work each week.
Insurance – presented by Major, Lindsey & Africa
Benjamin Hine, Wotton & Kearney
Mr Hine is now an associate at Wotton & Kearne, however his win represents work undertaken while at DLA Piper as a solicitor within the firm's Melbourne office.
The past year saw Mr Hine advise in numerous high-profile insurance matters.
Mr Hine's passion for diversity spread throughout DLA Piper, as he pioneered key programs and events to support the cause. One example is the launch of DLA Piper's Australian LGBTI network and interfirm drinks hosted in Melbourne in December 2016.
Naazihah Jamal, Gilchrist Connell
Ms Jamal is a senior associate at Gilchrist Connell, based in Brisbane.
Over the past 12 months, Ms Jamal has become the first point of call for one of the firm's largest self-insured clients, Cardno Limited, which she now manages in several large-scale pieces of litigation for.
Ms Jamal initially opened Gilchrist Connell's Brisbane office with David Flint in 2015 and over the past year has continued to take an active leadership role as the office grows. This includes training and mentoring junior staff; developing and managing the team's CPD program; and responding to client enquiries (both file-related and non-chargeable).
Workplace Relations, Employment and Safety – presented by Taylor Root
Patrick Turner, Maurice Blackburn Lawyers
Mr Turner is a solicitor in the employment and industrial law section of Maurice Blackburn Lawyers in Brisbane.
Throughout the year, Mr Turner has led Maurice Blackburn's involvement in Australia's highest profile underpayment scandal, overseeing a team which has provided pro bono legal representation to over 100 underpaid 7-Eleven workers and fielded over 400 enquiries.
Amy Zhang, Harmers Workplace Lawyers
Ms Zhang is a senior associate at Harmers Workplace Lawyers' Sydney office.
The past 12 months have seen Ms Zhang as lead solicitor on several large-scale matters, while having the key responsibility of coordinating and delegating to a team.
Some of her most notable work over the year has been a series of high-profile and sensitive workplace law matters, including obtaining a seven-figure settlement for a sexual harassment matter.
Pro bono – presented by Monash Law
Danielle Barry, Clayton Utz
Ms Barry is a solicitor at Clayton Utz, where she has completed 313.6 hours on pro bono matters affecting the IT/IP space.
Some of her most significant pro bono work involves advising on trademark registrability for Mood Active, a not-for-profit organisation which provides low-cost exercise and health classes to people suffering from chronic mental health conditions.
Ms Barry's role at Clayton Utz sees her lead a team of 20 lawyers and graduates, who under her guidance attend the Pindari Men and Women Homeless Persons Clinics every fortnight in Brisbane to provide ongoing pro bono legal assistance in the areas of debt recovery, consumer and criminal law.
Alicia Wells, Henry Davis York Lawyers
Ms Wells is a solicitor within Henry Davis York Lawyers' Sydney office.
Over the past 12 months, Ms Wells has been involved in numerous pro bono matters, including increasing the capacity of the Australian Human Rights Commission (AHRC) to promote human rights by undertaking research while volunteering to be on secondment from the firm to the AHRC.
In addition, Ms Wells has co-ordinated fundraising for a mental health initiative, as a committee member of the annual Batyr Blue Tie Ball.
Corporate Counsel – presented by Taylor Root
Theo Kapodistrias, University of Tasmania
Mr Kapodistrias is an in-house solicitor for the University of Tasmania.
The past year has been a busy one for Mr Kapodistrias, with him working autonomously in providing legal advice to all divisions of the university on matters such as commercial contracts, IP, real property, discrimination, IT and technology, privacy and dispute management.
Haylen Pong, Salmat
Ms Pong is a legal counsel for Salmat Limited, where she operates from Sydney suburb Eastwood.
Throughout the past year, Ms Pong was responsible for successfully negotiating high-value contracts with multiple retail giants and major governmental entities.
The 12 months also see Ms Pong volunteer for numerous projects that have greatly expanded her role, improved the reputation of the legal team within Salmat, and assisted in increasing business-to-legal engagement.
Dispute Resolution – presented by KordaMentha Forensic
Aleksandra Ilic, King & Wood Mallesons
Ms Ilic is a solicitor in King & Wood Mallesons dispute resolution team.
Over the past 12 months, Ms Ilic acted for and developed strong relationships with key clients of the firm. This includes National Australia Bank Limited (NAB), State Street Australia Limited, UBS AG, UBS Financial Services, JP Morgan and Brookfield Capital Management Limited.
The year has seen Ms Ilic continuously demonstrate initiative and leadership within the firm, which was recognised when she was appointed to take over the management and day-to-day carriage of ASIC's investigation into NAB's foreign exchange business, from a senior associate on maternity leave.
Millie Richmond-Scott, MinterEllison
Ms Richmond-Scott is a senior associate within MinterEllison's Perth office.
Throughout the year, Ms Richmond-Scott has acted in complex, high-profile and high-value disputes, including acting pro bono for the appellant in Rizeq v The State of Western Australia.
The past 12 months has also seen her successfully resolve proceedings for an ASX-listed mining company arising out of the termination of the company's managing director following a board spill.